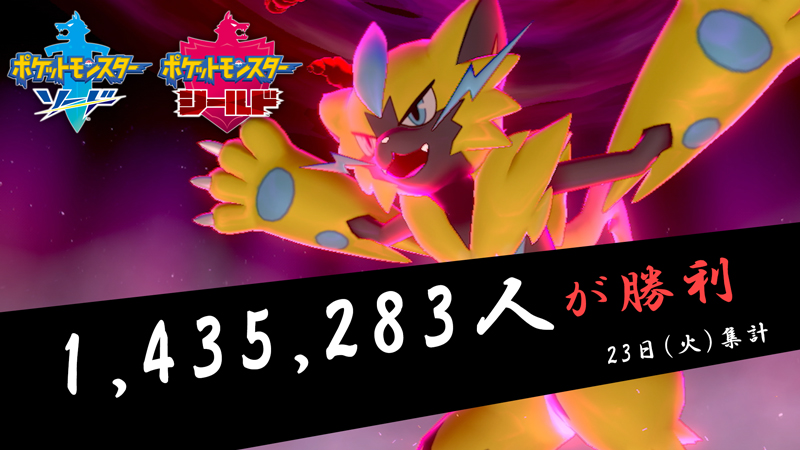 1.4 Million Trainers Have Defeated Zeraora to Unlock Shiny Zeraora
1.4 Million Trainers Have Defeated Zeraora to Unlock Shiny Zeraora
The official Japanese Pokemon Twitter account has shared that over 1.4 million trainers have defeated Zeraora in Raid Battles.
This fulfills the 1 million goal that was shared last week with the release of the Isle of Armour for Pokemon Sword and Shield.
1.4 million people completed for Shiny Zeraora! We will, at this time, be getting 4 Armorite Ores, with possibly 6 more if we hit 2 million. #PokemonSwordShield https://t.co/G3eLHROH6C

— It's Super Effective (@pkmncast) June 24, 2020
Here are the requirements to obtain this shiny mythical Pokemon for yourself.
If the target numbers are reached, you'll be able to claim your Shiny Zeraora and Armorite Ore via the Mystery Gifts menu in the mobile device version of Pokémon HOME from Monday, June 29, 2020, at 5:00 p.m. PDT until Monday, July 6, 2020, at 4:59 p.m. PDT. Note that you don't have to have the Expansion Pass to encounter or receive Zeraora. In order to claim these gifts, you must also meet the following condition:

You must have deposited a Pokémon in Pokémon HOME or moved a Pokémon to Pokémon Sword or Pokémon Shield from Pokémon HOME between Wednesday, June 17, 2020, at 8:00 a.m. PDT and Monday, July 6, 2020, at 4:59 p.m. PDT.