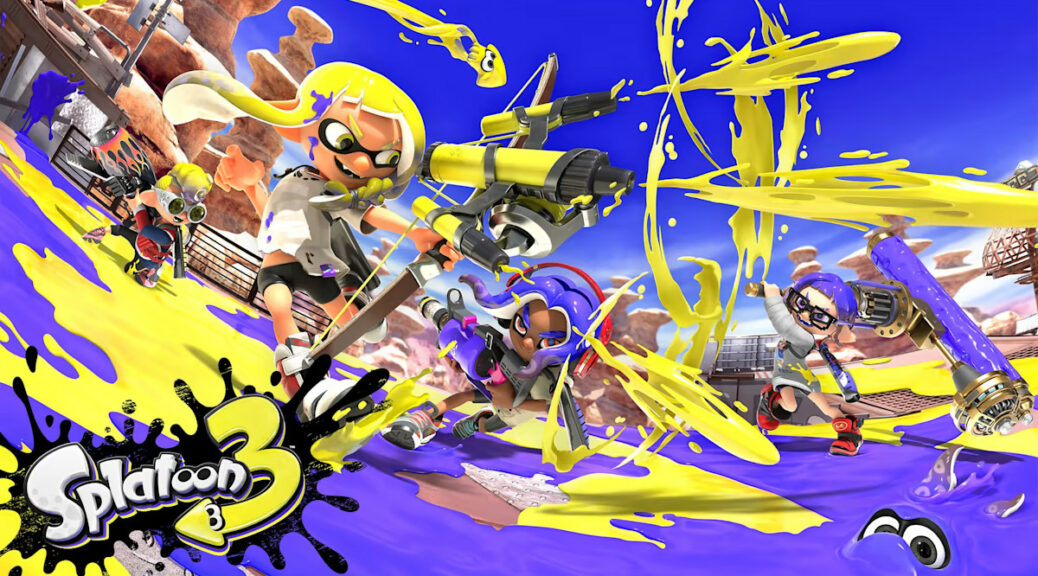 Americas eShop Update: Splatoon 3, Tower Princess, Haiku the Robot
Americas eShop Update: Splatoon 3, Tower Princess, Haiku the Robot
Check out this week's eShop updates:
Nintendo eShop on Nintendo Switch

Splatoon 3 – Get ready to get messy in this completely new installment in the Splatoon series! The Splatoon 3 game is a new sequel for both raw recruits and long-time players, featuring resurfaced fan-favorite features, plus modes that have never been seen in a Splatoon game before. Use over-the-top weapons to splash vivid ink across new and returning stages in heated multiplayer Turf War battles. Pick a side and gain clout in three-team Splatfests or work together with friends in the always available and freshly updated Salmon Run mode. Want to swim solo? Uncover mysteries and familiarize yourself with the game in the new single-player Story Mode, "Return of the Mammalians." Splatoon 3 will be available on Sept. 9 in Nintendo eShop.
Tower Princess – Once upon a time in a faraway land, an Evil Dragon took every royal heir he could meet prisoner. Lots of worthy suitors of every kingdom tried to face the beast without success. Now it's your turn. Do your best to beat the dungeon, defeat the dragon and manage the most perfect date!
Haiku, the Robot – Delve into the depths of a mechanical world in this cute adventure-exploration game. Explore and fight in a land full of corrupt robots and machinery. Dodge, dash and slash as you battle fierce-looking machines. Challenge your skills and reflexes through tight melee combat and epic boss fights, all while seeking answers to the mysteries around you. Haiku, the Robot will be available on Sept. 9 in Nintendo eShop.

Activities:

Reel in Double Gold Points With the Digital Version of Splatoon 3 – Here's a fresh opportunity for you! For a limited time, you can earn double My Nintendo Gold Points on the digital version of the Splatoon 3 game. That means you can earn 10% in Gold Points, which you can then use toward your next eligible digital game or DLC. Already pre-ordered digitally? Those points are coming your way, too – booyah! Offer ends Sept. 30 at 11:59 p.m. PT.*

Nintendo eShop sales:

Nintendo eShop on Nintendo Switch, Nintendo 3DS and Wii U

Check out the full list of deals available this week at https://www.nintendo.com/store/sales-and-deals.

Also new this week in Nintendo eShop on Nintendo Switch:

Arcade Archives PAC & PAL
Battleship War: Time to Sink the Fleet
BPM: Bullets Per Minute
Canfield Solitaire Collection
Catmaze – Available Sept. 9
Chenso Club
City Traffic Driver 2
Dead Invaders: Modern War 3D – Available Sept. 12
Fashion Princess
Food Truck Tycoon Premium Edition – Available Sept. 9
Game Type DX
Hell Pie
Into The Dark
JUSTICE SUCKS
Little Orpheus – Available Sept. 13
Mahjong Connect Onet Puzzle
Matisse's 3D World
Nobody Saves the World + Frozen Hearth Bundle – Available Sept. 13
Pandaty
Pixel Game Maker Series Ninja Sneaking R
Radical Rex (QUByte Classics)
Ramp Bike Jumping
Rick Henderson
Skycadia
Sokoban Block Puzzle
Supaplex WOW!
Svoboda 1945: Liberation – Available Sept. 13
The Gallery
The Hand of Glory
The Last Run: Dead Zombie Shooter
The Vampires
To Leave – Available Sept. 9
Viki Spotter: The Farm
Viki Spotter: Zoo
Voice of Cards: The Beasts of Burden – Available Sept. 13
White Day: A Labyrinth Named School
Wind of Shuriken
Zombies in City: Apocalypse Survival
Zumba Blitz

* Gold Points are awarded based on the amount you pay (excluding tax and any points or discounts used) and have no cash value. A Nintendo Account is required to receive and redeem My Nintendo points. Terms apply. https://accounts.nintendo.com/term_point. Offer valid through Sept. 30 at 11:59 p.m. PT when you purchase or redeem a download code for the digital version of the Splatoon 3 game in Nintendo eShop or Nintendo.com. For more information about Gold Points, be sure to check out https://my.nintendo.com/about_gold_point.