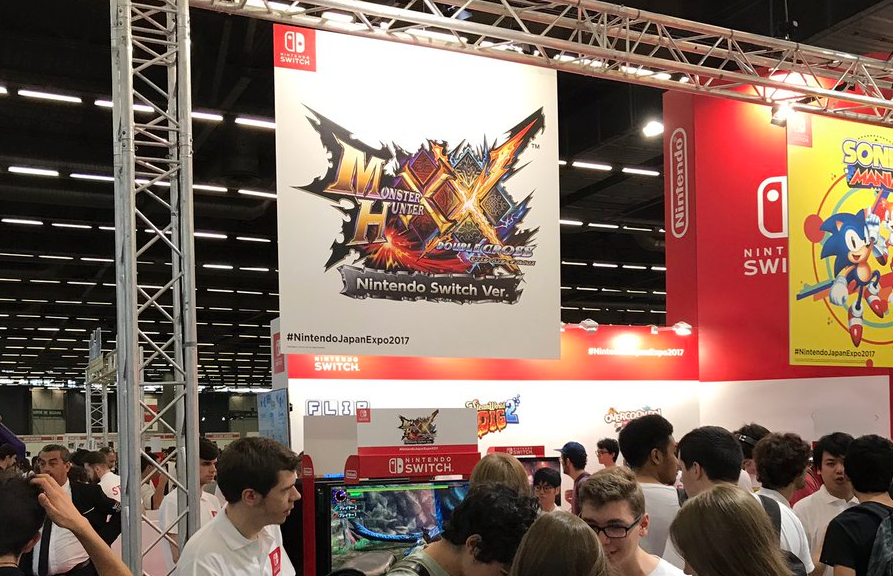 Here Are The Nintendo Games You Can Play At Japan Expo 2018
Here Are The Nintendo Games You Can Play At Japan Expo 2018
Nintendo of Europe has announced the full lineup of first party and third party Nintendo Switch titles Japan Expo 2018 attendees can try out, taking place in Paris from July 5 to 8.
Titles include upcoming releases such as Super Smash Bros. Ultimate and Travis Strikes Again. Titles already released such as 1-2 Switch and ARMS will also be present.
A selection of indie titles will be playable at the convention. The list of indie games will be revealed later.
Check out the full list below.
1-2-Switch (Nintendo)
Arms (Nintendo)
Bayonetta 2 (Nintendo)
Captain Toad: Treasure Tracker (Nintendo)
Dark Souls Remastered (Bandai Namco)
Donkey Kong Country: Tropical Freeze (Nintendo)
Dragon Ball FighterZ (Bandai Namco)
EA Sports FIFA 19 (EA)
Go Vacation (Nintendo / Bandai Namco)
Kirby: Star Allies (Nintendo)
Mario Kart 8 Deluxe (Nintendo)
Mario Tennis Aces (Nintendo)
Mega Man 11 (Nintendo)
Monster Hunter Generations Ultimate (Capcom)
My Hero: One's Justice (Bandai Namco)
Octopath Traveler (Nintendo / Square Enix)
Okami HD (Capcom)
Pokken Tournament DX (Nintendo)
SNK Heroines: Tag Team Frenzy (NIS America)
Splatoon 2 (Nintendo)
Splatoon 2 DLC 'Octo Expansion' (Nintendo)
Starlink : Battle for Atlas (Ubisoft)
Super Mario Odyssey (Nintendo)
Super Smash Bros. Ultimate (Nintendo)
Sushi Striker: The Way of Sushido (Nintendo)
The Legend of Zelda: Breath of the Wild (Nintendo)
Travis Strikes Again: No More Heroes (Grasshopper Manufacture)
Valkyria Chronicles 4 (Sega)