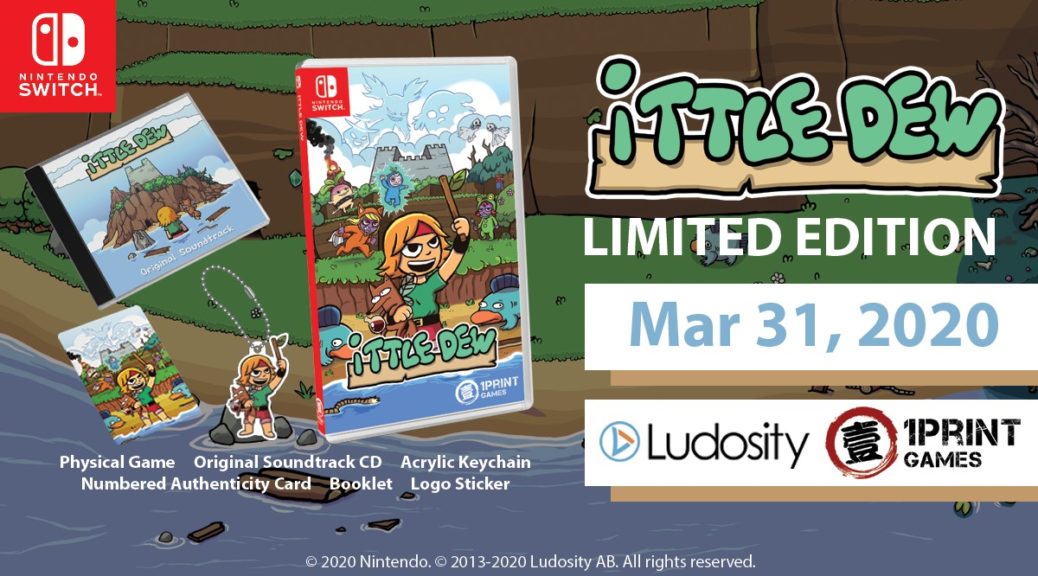 Ittle Dew Limited Edition Has Sold Over 1000 Copies, Launches Today
Ittle Dew Limited Edition Has Sold Over 1000 Copies, Launches Today
Been excited to get your hands on Ittle Dew in physical form? Well, so are many avid collectors around the globe!
To coincide with the release of its Ittle Dew Limited Edition bundle today, 1Print Games revealed that over 1,000 copies (in the form of pre-orders) had already been sold – making it the publisher's fastest-selling title so far!
As reported previously – the Ittle Dew Limited Edition bundle includes the physical game, a soundtrack CD, acrylic Keychain, numbered authenticity card, guidebook, and logo sticker for $34,99 USD. Also exclusive to this physical release is language support for Traditional Chinese and Simplified Chinese for the very first time!
Keen to grab a copy? Read further below for the link to do so!
Ittle Dew Limited Edition Is Out On Nintendo Switch™️ Today

Over 1000 copies pre-ordered – grab yours now!

March 31, 2020 – 1Print Games, a new independent publisher focused on releasing fun indie physical games exclusively for Nintendo Switch, is happy to announce we have released the Ittle Dew Limited Edition for Nintendo Switch today.

In Ittle Dew, players accompany Ittle Dew and Tippsie land up on an island choke full of mysterious enemies, treasure, and lore. Our heroines will have to find a way to get out of the island by solving tricky puzzles!

The Ittle Dew Limited Edition is now available for USD34.99 via the 1Print Games website. Every Ittle Dew Limited Edition comes with a copy of the Nintendo Switch physical game, Ittle Dew Original Soundtrack CD, Ittle Dew and Tippsie Acrylic Keychain, Ittle Dew Numbered Authenticity Card, Ittle Dew Adventurer's Guidebook, and Ittle Dew Logo Sticker. Also exclusive to the Ittle Dew Limited Edition are Traditional Chinese and Simplified Chinese language options for the first time in Ittle Dew's history.

"We're over the moon excited to have such a beautiful package of one of our dearest games," says Ludosity CEO Joel Nyström. "It feels like everything has come together with this release – the best version on the best platform with lovingly created extras such as the all new manual and goodies in the box. We couldn't be happier, and working with 1Print Games has been so smooth and easy for us. They have worked fast and hard to make everything we've planned happen."

"It's been a pleasure to work with Ludosity to bring Ittle Dew physically to Nintendo Switch," comments 1Print Games director Iggy. "I hope fans and gamers will enjoy what we have prepared in this limited edition release."

As of March 30, 2020, over 1000 copies of the Ittle Dew Limited Edition have been pre-ordered and continue to sell like hotcakes. Don't wait till it's all gone!

Grab your copy on the 1Print Games website today!

Links

Ittle Dew (Nintendo Switch) product page

About 1Print Games

1Print Games is an independent publisher of physical indie games for Nintendo Switch established in 2019 by life-long Nintendo fans and gamers Iggy and Nitro. 1Print Games is a publisher that seeks to deliver high quality products and celebrate awesome indie games with everyone around the world.

About Ludosity

Ludosity is a kick-ass game development studio based in Sweden, that's been around a lot longer than you think and made all these great games, damn you should really check all of their games out, anyway, Ludosity is super proud to work with 1Print Games and release a beautifully packaged version of Ittle Dew for the Nintendo Switch!