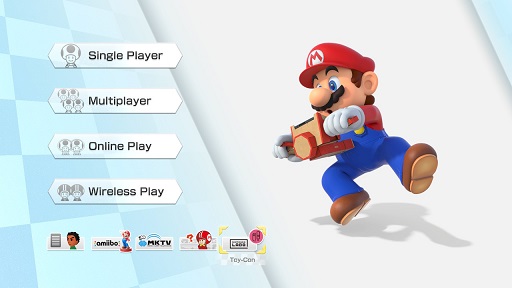 Mario Kart 8 Deluxe For Switch 1.5.0 Patch Notes, Labo Support
Mario Kart 8 Deluxe For Switch 1.5.0 Patch Notes, Labo Support
Nintendo has released the patch notes for Mario Kart 8 Deluxe on the Nintendo Switch. The patch will bring support for the Toy-Con Motorbike as well as other bug fixes. It is important to note that once you have updated the game to the latest version, you will not be able to engage in local wireless or LAN play with your friends who have yet to update.
You can head on to Nintendo's support page here or read the patch notes below:
Version 1.5.0

Now supports the use of the Toy-Con Motorbike from Nintendo LABO Toy-Con 01 VARIETY KIT.

You can now set whether or not to use the Toy-Con Motorbike from the Toy-Con settings in the top menu.
At the screen right before the game begins, please set the Joy-Con inside the Toy-Con Motorbike.
When using the Toy-Con Motorbike, the camera will look over the character's shoulder, increasing immersion.
Press the downward directional button to play with normal view again.

Addressed an issue where, after setting up a tournament, the "Search by code" feature would stop functioning.
Addressed an issue that made it impossible for a player to proceed after colliding with a Star Thwomp.
The latest update data is needed to play matches online.
Once you have downloaded the latest update data, you will no longer be able to play "Local Wireless" and "LAN Play" matches with other players who have not downloaded this data.