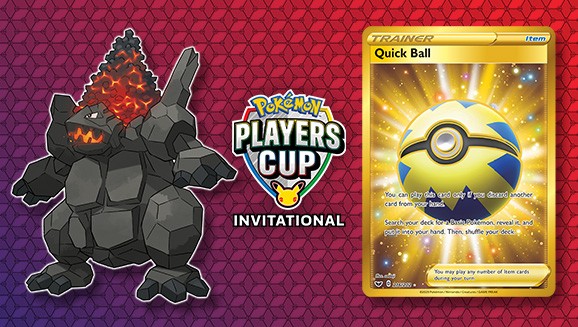 Players Cup Invitiational Coalossal Distribution Announced For Pokemon Sword/Shield
Players Cup Invitiational Coalossal Distribution Announced For Pokemon Sword/Shield
The Pokemon Company has revealed another special distribution event coming to Pokemon Sword And Shield next week.
A special Coalossal is due to be distributed via a code for Pokemon Sword And Shield, as part of the Pokemon Players Cup Invitiational which takes place this weekend. This Coalossal is based on the one used by Players Cup II winner Wolfe Glick, and has the following attributes:
Level 50

Nature: Modest

Ability: Steam Engine

Item: Weakness Policy

Moves:

Heat Wave
Meteor Beam
Protect
Solar Beam

Has Gigantamax Factor with Dynamax level of 10
In addition, a golden Quick Ball card will also be distributed via a code for Pokémon Trading Card Game Online.
What do you think? Let us know in the comments.