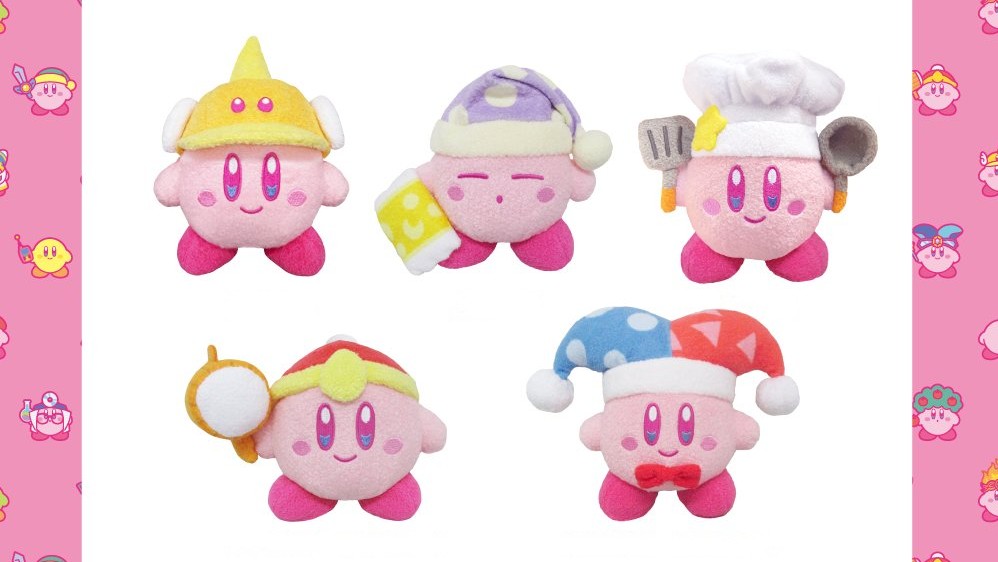 Second Wave Of Kirby Muteki! Suteki! Closet Plushies Announced, Will Launch In April 2021
Second Wave Of Kirby Muteki! Suteki! Closet Plushies Announced, Will Launch In April 2021
Even more cuddly versions of the pink hero Kirby will be available next year!
Sanei Boeki has announced a second wave of its "Kirby Muteki! Suteki! Closet" plushie line-up. This time, the plushies (measuring 11 – 16 cm in height) will feature Cutter Kirby, Sleep Kirby, Cook Kirby, King Dedede Kirby, and Marx Kirby.
Japanese fans will be able to grab these adorable new additions in Late April 2021. We'll report back if/when international pre-orders open later on.
In the meantime, you can check out a higher-quality preview of the plush toys below:
【商品紹介①】
「KIRBY MUTEKI! SUTEKI! CLOSET」ぬいぐるみ
カッター
■価格:1,500円+税
■サイズ
H11×W13×D8㎝
■2021年4月下旬発売予定#星のカービィ #三英貿易 pic.twitter.com/LQvmKQW9OD

— ぬいぐるみの三英@ゲームキャラクター (@sanei_NLG) November 20, 2020
【商品紹介③】
「KIRBY MUTEKI! SUTEKI! CLOSET」ぬいぐるみ
コック         
■価格:1,500円+税
■サイズ
H16×W13×D8㎝
■2021年4月下旬発売予定#星のカービィ #三英貿易 pic.twitter.com/P9Lg45STub

— ぬいぐるみの三英@ゲームキャラクター (@sanei_NLG) November 20, 2020
【商品紹介⑤】
「KIRBY MUTEKI! SUTEKI! CLOSET」ぬいぐるみ
キャラクターコスチューム(マルク)
■価格:1,500円+税
■サイズ
H15×W17×D8㎝
■2021年4月下旬発売予定#星のカービィ #三英貿易 pic.twitter.com/7JbBk8pOxZ

— ぬいぐるみの三英@ゲームキャラクター (@sanei_NLG) November 20, 2020