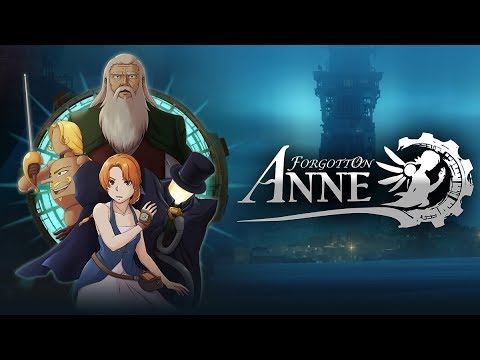 Forgotton Anne Releases For The Nintendo Switch Next Week
Forgotton Anne Releases For The Nintendo Switch Next Week
Publisher Square Enix has announced that the critically acclaimed game, Forgotten Anne will launch earlier on the Nintendo Switch. In fact, the game is coming onto the Nintendo Switch next week on 9 November 2018.
The game, which was launched on other consoles earlier this year has received numerous accolades. While we wait for the game to be released, why not take a look at the accolades trailer below:
Fans can go on and preorder the game from the Nintendo eShop here.
CRITICALLY ACCLAIMED FORGOTTON ANNE LAUNCHES ON NINTENDO SWITCH THIS NOVEMBER

Experience the Beautifully Handcrafted Forgotten Lands on Switch

London, UK (November 2, 2018) – It's not often a publisher gets to announce the launch of a game has been brought forward, but Square Enix Collective is pleased to do that today. Forgotton Anne, ThroughLine Games' memorable 2D cinematic adventure, will be making its debut on the Nintendo Switch console™ on November 9, 2018.

Earlier this year, Forgotton Anne earned critical acclaim as it launched on PlayStation 4, Xbox One, and PC. Fans can reserve their copy of the game on Nintendo Switch now.

"I think I can count on one hand the number of times I've been able to reach out and tell people that we've brought forward the launch of a game," says Phil Elliott, Director of Indie Publishing at Square Enix. "It's quite exciting to be able to bring ThroughLine Games' beguiling anime adventure to Nintendo gamers ahead of schedule, especially given the number of requests we've had for a Nintendo Switch version ever since its debut earlier this year. Now we can deliver."

Forgotton Anne is a seamless animated adventure, focusing on a hidden dimension where all mislaid items from the human world – the odd socks, the lost letters, the missing toys – are sent to linger. It's the job of the Forgotlings – creatures formed out of all of these missing items – to help the trapped Anne and Master Bonku find their way home.

"A Nintendo Switch version was always something we had planned to bring to life, and it's amazing that we can do this earlier than we expected," says Alfred Nguyen, Creative Director and Co-founder of ThroughLine Games. "We think playing Forgotton Anne in handheld mode feels fantastic and should serve as a perfect match for the Nintendo Switch console's fast expanding audience."

Forgotton Anne is available now on Steam for £15.49/$19.99/€19.99, Xbox One for £15.99/$19.99/€19.99, and PlayStation 4 for £15.99/$19.99/€19.99.

The game will launch on November 9, 2018 for Nintendo Switch. For one week only, players can purchase the game at a 10% discount (regular price £15.99/$19.99/€19.99).