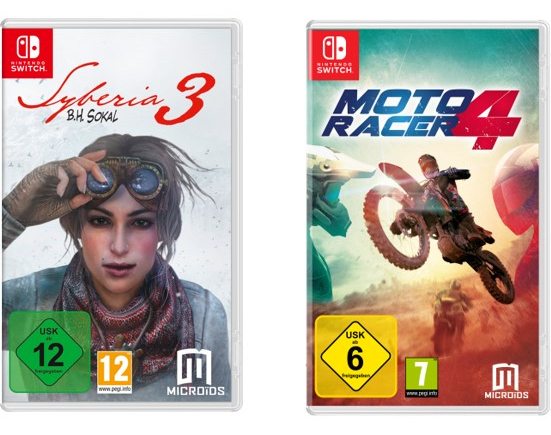 Microïds Details Switch Game Plans Until First Half 2019
Microïds Details Switch Game Plans Until First Half 2019
Microïds has quite a lot of games up their sleeves all the way until the first half of 2019. On top of Syberia 3 and Moto Racer 4, which will be released on 18 October 2018 for both physical and digital, Microïds has also unveiled that they're working on a remastered version of The Bluecoats: North vs South for the Nintendo Switch.
You can check out their press release below:
Paris, August 20th 2018 – After unveiling the releases of Gear.Club Unlimited 2, Toki and Asterix & Obelix XXL2, Microïds is delighted to announce the arrival of Moto Racer 4, Syberia 3 and The Bluecoats: North vs South on Nintendo Switch, as well as Flashback 25th Anniversary on PlayStation 4 and Xbox One!

Syberia 3

Nintendo Switch – October 18th 2018 (physical and digital version)

Play as Kate Walker and accompany the Youkol tribe during the migration of the snow ostriches. Together, you make your way through Benoît Sokal's magical world, pursuing common enemies and encountering unexpected obstacles. Syberia 3 on Nintendo Switch also includes the DLC 'An Automaton with a Plan': play as Oscar and discover a whole new part of Kate Walker's journey.

Moto Racer 4

Nintendo Switch – October 18th 2018 (physical and digital version)

In a world that's all about freestyle and risk-taking, you must demonstrate your style to win races and become the best rider! Moto Racer 4 on the Nintendo Switch is a single-player game with two game modes – Asphalt and Dirt – where you can choose to ride high-powered or motocross bikes.

Nintendo Switch version of Moto Racer 4 includes the DLCs 'Sliced Peak' and 'Antique Antics', which are already available on PC, Xbox One and PS4.

The Bluecoats: North vs South

Nintendo Switch in the first half of 2019 (digital version)

One of the pioneers of strategy games is making a huge comeback with a fully remastered version for the Nintendo Switch! Plunged into the American Civil War, you take control of one of the two opposing sides. In this turn-based strategy game, you will have to master the rules of the board game to conquer territories occupied by the enemy, wage battles in real time, take part in high-speed chases on horseback, or defend your fort in mini shooter games. Playing alone or in multiplayer mode, online or locally, North vs South will delight fans of the genre.