NPD: Pokemon Scarlet/Violet Among Top Selling Videogames In The US For December And Full-Year 2022
NPD: Pokemon Scarlet/Violet Among Top Selling Videogames In The US For December And Full-Year 2022
NPD Group has published their latest report for video game sales performance in the US for the month of December 2022, as well as Full-Year 2022.
For December 2022, Pokemon Scarlet And Violet rose to become the second highest selling videogame for the month, just under Call Of Duty Modern Warfare 2. Notably, it maintains its position on these rankings on retail sales alone, as Nintendo does not provide digital sales figures for these charts. Mario Kart 8 is also on this list presumably due to maintained interest in the DLC courses.
As for the Full-Year 2022 figures, the only two main Nintendo titles on the charts are Pokemon Scarlet/Violet at #6, and Pokemon Legends Arceus at #8. In the case of Scarlet/Violet, this is a fairly significant achievement given that it launched in the latter half of November 2022, and was on the market for a comparatively shorter period of time compared to most other games on the list.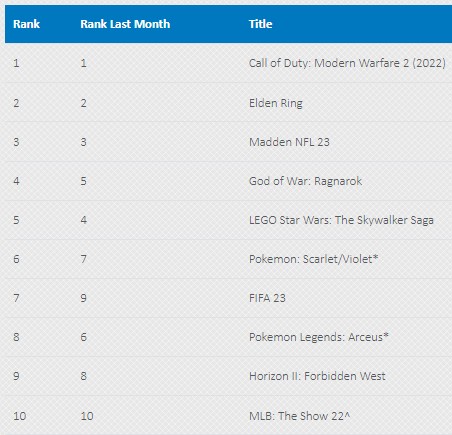 What do you think? Let us know in the comments.