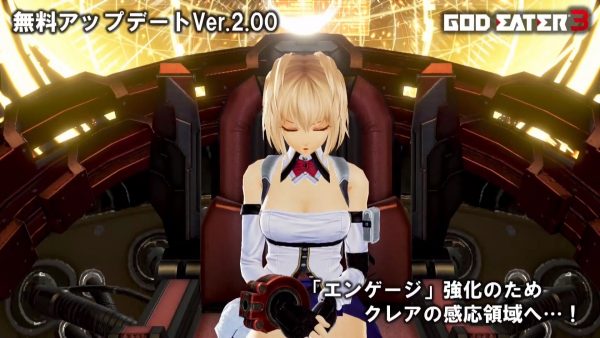 God Eater 3 Receives Version 2.00 Trailer And Details, Along With Tidbits For Version 2.10 And 2.20
God Eater 3 Receives Version 2.00 Trailer And Details, Along With Tidbits For Version 2.10 And 2.20
Is God Eater 3 on Switch drying up for you? Now you can look forward to more juicy content updates soon!
Bandai Namco Entertainment has revealed new details about the action RPG in its latest God Eater livestream. In particular, the company gave a new preview of upcoming updates in the next major patch version 2.00 of the game – which will introduce a new additional episode, new costumes, and new Ash Forged bosses.
Additionally, Bandai Namco also detailed more additions in the future 2.10 and 2.20 updates – which promise huge features like New Game Plus and the ability to remake your character from scratch!
Check out the trailer and full details below, courtesy of Gematsu:
Version 2.00 Highlights

The second round of free updates will feature an additional episode dubbed "Encounters with the Past." In version 2.00, the first chapter of that story will unfold via Claire's chapter, where you will head to her Sympathy Domain in order to strengthen your Engage. Hugo and Zeke chapters will follow in version 2.10, with the additional stories for other ally characters due out after. Bandai Namco noted that after version 2.00, updates will be released at a faster pace than normal.

"Encounters with the Past" will be added to the "Additional Episodes" menu.
By completing missions with your allies, your Sympathy sync rate will rise. Episodes unlock by increasing sync rate.
The new costumes that were previously teased are included in the version 2.00 update.
As is the new Aragami, Ash Forged Barbarius Ira.
The "Ash Forged God Arc Parts" and "Ash Forged God Arc Parts (Alternate Color)" are also included in the update, respectively equipped with the "War Cry" and "Blade Impulse" Burst Plugins.

Version 2.00 and 2.10 Updates at a Glance

Version 2.00

Adjusted Burst Plugin configurations – Changed "Close Call" to "Rage Shield" in Quadriga's Tower Shield.
"Abandoned God Arc" + maximum level changed to 35 (after clearing the Claire chapter of "Encounters with the Past").
"Abandoned God Arc" +2 appear in the following missions:
EX Time Attack Missions
Extra Missions (new addition)
Claire Certification Missions 31 to 34 (new addition)
Adjusted attack cancel dive to turn 360 degrees when turning off lock-on.

Version 2.10

God Arc parts + maximum level sequentially unlocked – 40 in version 2.10, 45 in version 2.20.
Special mission "A Challenge to Hound" added.
Lock-on camera behavior added to Options.
Feature to redo character creation (including gender) added.

Version 2.20

"New Game Plus" added.
"Jukebox" feature to change background music at the base added.
Other features are currently under investigation…!

Future Updates

Following version 2.10, additional character stories will be released one in due time. Additionally, an event will be depicted throughout the entirety of the "Encounters with the Past" episode.
2.10 will introduce Ash Forged Vajra and Ash Forged Nuada.
Ash Forged Hannibal is also in development.