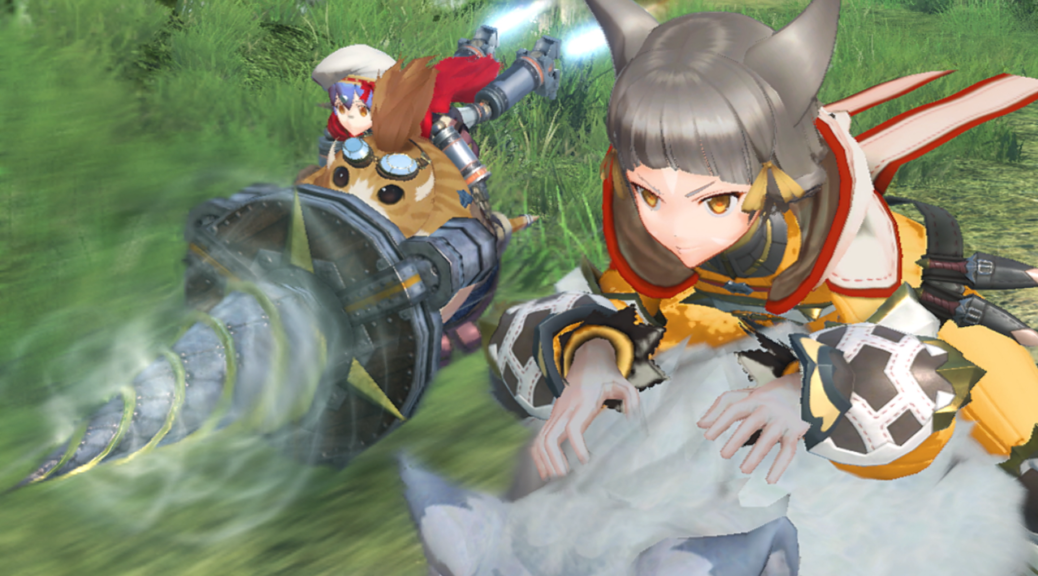 Monolith Soft founder talks about Xenoblade Chronicles 2 development, Tetsuya Nomura's involvement
Monolith Soft founder talks about Xenoblade Chronicles 2 development, Tetsuya Nomura's involvement
In a huge Xenoblade Chronicles 2 interview with Monolith Soft founder Tetsuya Takahashi, Takahashi talked to TIME about the game's development, how Square-Enix's Nomura is involved with the game, and other details.
The speed of developing Xenoblade Chronicles 2 has been much quicker than many people expected. Takahashi explains that the game is built on the same architecture Xenoblade Chronicles X (Wii U) already has in place. Developing on the Nintendo Switch has been "slightly" easier too, primarily due to its single screen nature.
TIME: Xenoblade Chronicles 2 seems to have come together must quicker than Xenoblade Chronicles X. What's it like working with the Switch compared to the Wii U?

The ease or speed of developing Xenoblade Chronicles 2 stems a lot from our having already created this architecture with Xenoblade Chronicles X. The game portion of Xenoblade Chronicles 2 is kind of overlaid on top of that fundamental architecture. I think that made the biggest contribution to why development went so fast. And in terms of Switch versus Wii U, another point is that we've only had to deal with one screen, so that also has made development a little bit easier.

And so to add to that, both at Nintendo and at Monolith, we wanted to have a major large-scale roleplaying game early in the Switch's lifecycle. We thought about how we might accomplish that, and we wanted to do the same thing with the Wii U. But the development for Xenoblade Chronicles X was a little bit difficult, and that's why it ended up being released a little bit later in the Wii U's cycle. So we had a postmortem and tried to think 'How can we deliver this at an earlier stage in the console's lifecycle?'
Takahashi also revealed how Square-Enix director Tetsuya Nomura is involved with designing a character in Xenoblade Chronicles 2. The story goes as far back as 2 decades ago.
TIME: I noticed artist Tetsuya Nomura's name in the trailer credits [as the designer of a character named "Toma"]. He's obviously a longtime Square Enix fixture [he's currently directing Kingdom Hearts III and the Final Fantasy VII remake], so I'm wondering how that happened?

Good question. This story goes back 20 years. Back when I was about to start on a new game, and the name "Xenogears" wasn't set yet, for that new title I needed a designer. And at the time there was someone who was directing the Final Fantasy series, Mr. [Yoshinori] Kitase. And then Mr. Nomura and I were in the team together doing character design. At the time, Mr. Kitase was handling Final Fantasy and I was doing this new title, and I wanted to work with Mr. Nomura.

So I was waiting for the final call to be made, whether he was going to be working on the Final Fantasy series or on this new title of mine. And then Mr. [Hironobu] Sakaguchi [the creator of the Final Fantasy series] came and said 'Tetsu is going to do Final Fantasy.' So I thought 'Okay, I've got to find myself a new designer.'

But I've always wanted to work with him. And this idea of Xenoblade Chronicles 2 came up, and I thought I'd love to work with him again. After our discussion with Nintendo went through and this project was a go, I went directly to Square Enix, thinking that I'd be denied, asking if I could work with Tetsu. To my surprise, it was approved, and that's how it happened.
When Takahashi was asked whether he would like to take a step back into developing smaller projects, he said he has a habit of creating "big games".
Some years ago, [Mario and Donkey Kong creator] Shigeru Miyamoto talked about shifting to smaller creative projects. Do you ever feel that desire to scale down?

I think the inferiority complex I mention earlier is almost like a driving force for my game development, so I think the games I work on naturally end up being large in scale. All the games that I've had the opportunity to develop, it just turned out that they were big games.

Before I worked at Square Enix, I used to work at a Japanese PC game company called Nihon Falcolm, and they also make big games. So it's almost like I developed this habit of creating big games. I do have interest in creating smaller games, but I think what happens is that out of habit, it becomes a big game.
Many other details on Xenoblade Chronicles 2 were discussed during the interview on TIME. You can check it out here.