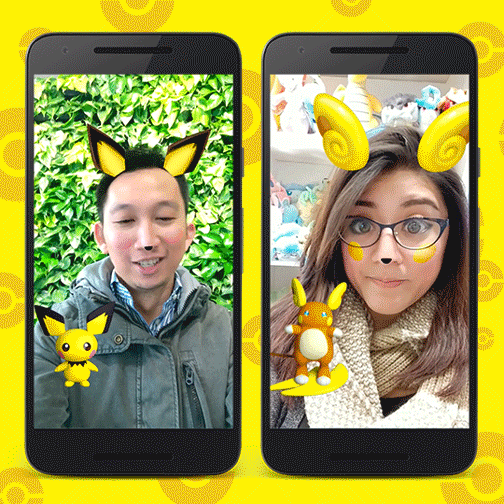 New Snapchat Lens and Facebook, Line Camera Filters To Celebrate Pokemon Ultra Sun/Moon
New Snapchat Lens and Facebook, Line Camera Filters To Celebrate Pokemon Ultra Sun/Moon
The Pokemon Company is once again working with Snapchat to launch a limited time Pokemon themed Snapchat lens.
This time in celebration of the launch of Pokemon Ultra Sun and Ultra Moon, Snapchat users will be able to use lens based on Pichu, Pikachu and Alolan Raichu.
That is not all, Facebook Camera and Line users will also be able to join in the fun this time with Ultra Sun/ Moon filters as well. In Facebook Camera, users can have Pikachu us its Z-Move, Gigavolt Havoc while in Line, it is possible to apply filters with the Alolan starters.
MEDIA ALERT: PIKACHU AND FRIENDS APPEAR IN NEW SNAPCHAT LENS AND INTERACTIVE FACEBOOK AND LINE CAMERA FILTERS TO CELEBRATE LAUNCH OF POKÉMON ULTRA SUN AND POKÉMON ULTRA MOON!

In celebration of the launch of Pokémon Ultra Sun and Pokémon Ultra Moon exclusively on the Nintendo 3DS family of systems, The Pokémon Company has partnered with Snap Inc. to launch a custom Pokémon Snapchat Lens and Facebook and LINE to launch Pokémon camera filters for a limited time.

Snapchatters and Pokémon fans who animate their selfies with the Lens will first see Pichu's ears, nose, and pink cheeks decorate their face. Opening their mouth will trigger Pichu's voice. If a user activates the Lens seven times, Pikachu will jump into the screen and strike a pose. An additional seven uses of the Lens will unlock the appearance of Alolan Raichu.

When Pokémon fans use the Facebook Camera and choose the Pikachu filter, they will first see the iconic Pokémon in the corner of the screen. Then, they can open their mouth to activate Pikachu's powerful Gigavolt Havoc Z-Move. LINE users can activate the camera function to choose from two Pokémon filters- one with Pikachu and Alolan Raichu and the other with Pikachu, Popplio, Rowlet, and Litten. The filter can be used while talking and chatting in the LINE app.