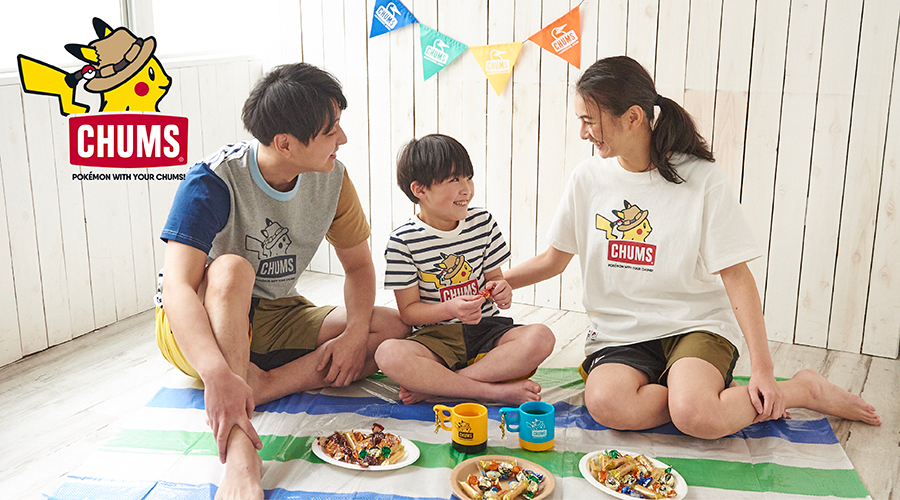 Pokemon Center Japan × CHUMS Collaboration Merchandise Announced
Pokemon Center Japan × CHUMS Collaboration Merchandise Announced
Pokemon fans in Japan will soon be able to style up with some fashionable new duds from Pokemon Center!
The Pokemon Company has announced that it will be collaborating with clothing brand CHUMS to produce a new line of apparel and bags. These new products will be available at Japanese Pokemon Center stores starting from 6 March 2021.
We'll report back if Amazon opens up international pre-orders for these products. In the meantime, check out some teaser images below!
T-shirt WH (M / L / XL)

 6,050 yen

T-shirt POKÉMON WITH YOUR CHUMS! Multicolor (M / L / XL)

 6,050 yen

Kids T-shirt Multicolor (115 / 130 / 145)

 4,180 yen

Kids T-shirt NV / WH (115 / 130 / 145)

 4,180 yen

Plunge Divers Pants (S / M / L)

 8,250 yen

Kids Plunge Divers (115 / 130 / 145)

 6,050 yen

Campfield Hoody (M / L)

 16,500 yen

Kids Campfield Hoody POKÉMON WITH YOUR CHUMS! (115 / 130)

 10,780 yen

Pullover Parka (M / L / XL)

 12,100 yen

Daypack

 11,550 yen

Junior

Daypack 9,570 yen

Two-zipper Shoulder Pouch

 5,500 yen

Shoulder Pouch

 5,940 yen

Smartphone Shoulder Pouch

 4,840 yen

Sweat pouch (BK / WH)

 2,310 yen

Camper mug cup (YL / BU)

 1,650 yen

TG hat

 6,710 yen

Kids TG Hat

 5,610 Yen

Sticker

 605 Yen

Rubber Key Chain

 935 Yen

Zip Pull Poke Ball

 880 Yen