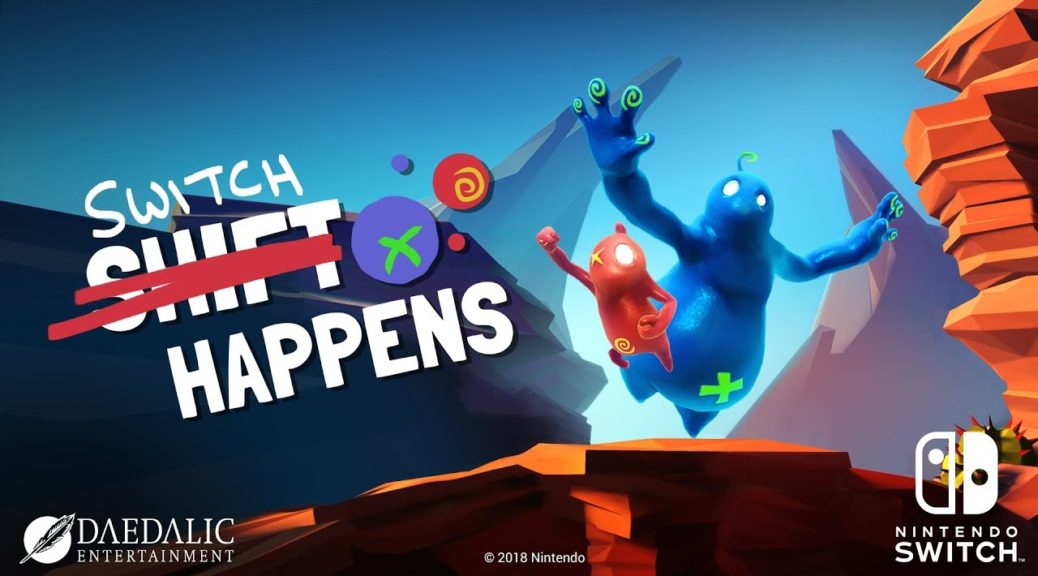 Shift Happens Will Be Launching On October 10 For Nintendo Switch
Shift Happens Will Be Launching On October 10 For Nintendo Switch
Daedalic Entertainment will be releasing Shift Happens on Nintendo Switch eShop very soon.
The physics-based co-op game will launch on October 10 for $14.99. Shift back and forth with two blobby creatures, as they both attempt to survive hazardous environments.
Check out the announcement trailer below.
Friday, September 28, 2018 — Shift Happens, the winner of the German Video Game Awards 2016 in "Best Gamedesign" and "Best Kids Game", will be available on October 10th, 2018 for Nintendo Switch™. Published by Daedalic Entertainment and developed by Klonk Games, Shift Happens focuses on cooperation and can be played solo or in a local co-op mode through 40 levels and four unique worlds filled with traps and puzzles.

In Shift Happens the players take control of Bismo and Plom, two jelly blob creatures that were joined together in an accident. The duo must use their newly-acquired power — the ability to exchange their size and skills seemingly at will — to survive a strange laboratory, overgrown green forests, dry canyons filled with deadly winds, and bitter cold caves. "Teamwork" is an important aspect of the game: When shifting, both characters change sizes simultaneously in a symbiotic relationship. The bigger blob gets smaller — and the smaller blob gets bigger.

The bigger blob can throw the smaller blob across chasms, push heavy crates, survive in shallow water, and activate weight-based triggers.

The smaller blob can jump higher/farther, move under small barriers, and be "launched" by the bigger blob.

The players always need to work and think together to finish the levels. And sometimes you may throw your partner "accidentally" in a large tar pit to get the coins, while the other characters lose on death. Trust or wealth, which route will the players take?

Key Features:

Fun and demanding jump'n'run levels with cooperative gameplay
Two different sets of levels: 40+ levels in co-op mode and 30 levels specifically for solo players
Extra challenges and rewards will be unlocked while playing
Special Hat-Feature: Bismo and Plom are able to wear funny hats and wigs inspired by famous YouTubers and Streamers. Try out Gronkhs-wig or a joystick and donut hat of Smosh Games!

Shift Happens will be available digitally through the Nintendo eShop on Otctober 10th, 2018 for $14.99.