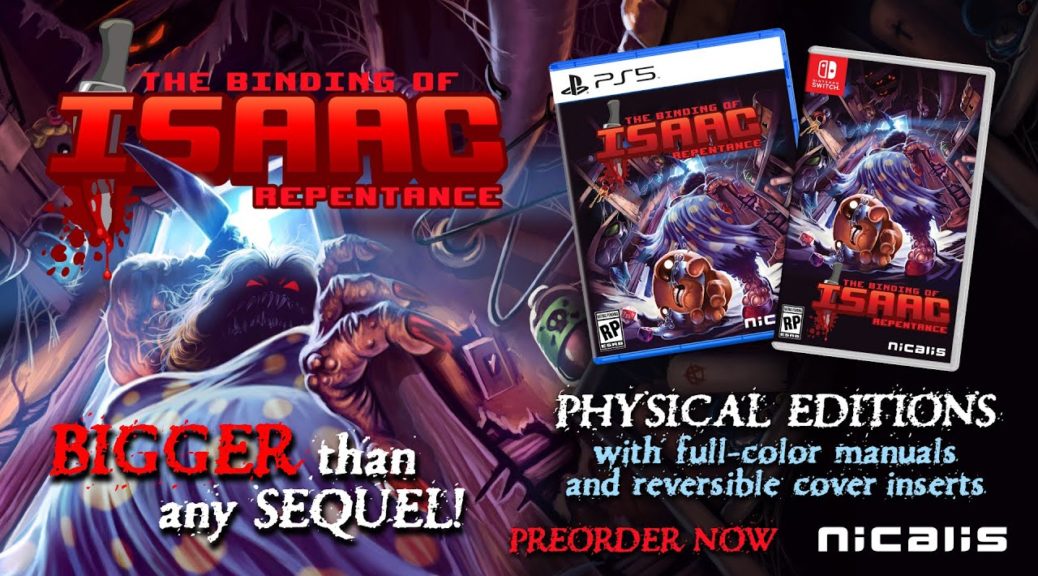 The Binding Of Isaac: Repentance Heading To Switch In Q3 2021, Physical Edition Up For Pre-Order
The Binding Of Isaac: Repentance Heading To Switch In Q3 2021, Physical Edition Up For Pre-Order
It looks like The Binding Of Isaac series is not quite done with Nintendo Switch gamers yet.
The Binding Of Isaac: Repentance has been confirmed for Nintendo Switch, with a release window of Q3 2021. The release represents the "final" and most complete version of the game to date – and promises at least two new playable characters, 130+ new items, 100+ new enemies and 25+ new bosses, an alternate path, a new final boss and a new ending.
Along with this, Nicalis has announced that it will be publishing a physical edition of the title for Nintendo Switch. You'll be able to pre-order it right now via Nicalis' online store over here, for $59.99 USD.
A trailer for this release along with some additional details can be found below:
Nicalis, Inc. today announced that The Binding of Isaac: Repentance, the "final" chapter in the groundbreaking roguelike twin-stick shooter series, is coming to Nintendo Switch™, PlayStation®4 and PlayStation®5 in the third quarter of 2021.

Described by Isaac creator Edmund McMillen as "the best version of Isaac" and the game that "makes Isaac feel complete to me," Repentance takes the series to new heights of roguelike dungeon adventure, as the tear-shooting toddler descends deeper into the basement for his most unbelievable challenges yet.

In order to maximize player enjoyment and preserve the element of surprise as much as possible, a complete list of the game's features will not be provided prior to the release of the PC version, which is currently planned to appear on the Steam platform on March 31. What has been revealed to date is that Repentance includes two new playable characters, 130+ new items, 100+ new enemies and 25+ new bosses, plus a full alternate path with brand new chapters, a new final boss and a new ending. There are also many new item combinations with logical effects, new visuals and mechanics, plus countless balance changes, graphic improvements and gameplay updates.

Along with the digital editions, The Binding of Isaac: Repentance will also be released in physical editions for Nintendo Switch and PS5. Available now for preorder at store.nicalis.com, the physical editions will include full-color instruction manuals and reversible cover inserts.