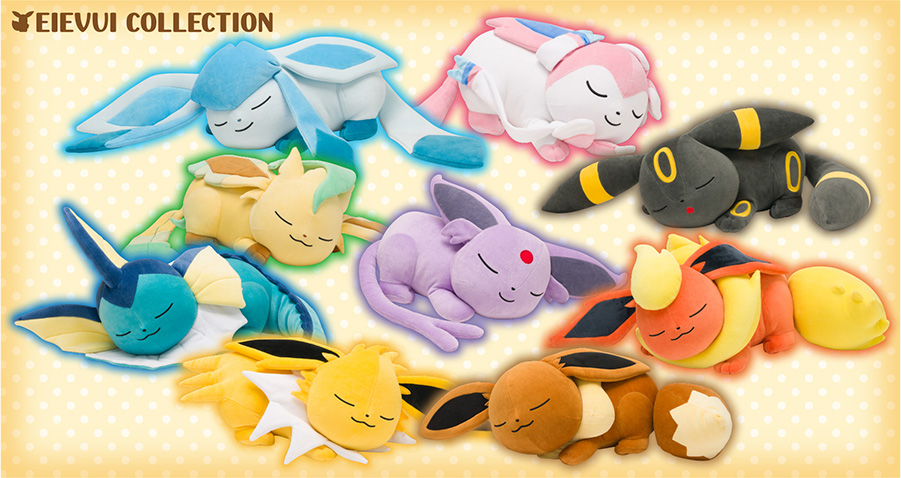 Adorable Sleeping Eevee Plushies Are Landing At Pokemon Center This Month
Adorable Sleeping Eevee Plushies Are Landing At Pokemon Center This Month
Here's something for fans of Eevee and its evolutions to go crazy after. The Pokemon Center will be launching a new Eevee Collection merchandise lineup later this month, and part of the lineup includes large plushies of Eevee and its evolutions sleeping forever.
Here's Eevee resting soundly. To Eevee, there's nothing better than a nap in the world.
Espeon is looking really adorable too!
We've attached pictures of the whole gang sleeping at the end of this article, so you can check them out later.
Besides the large sleeping plushies, there's Eevee Collection stationery such as pens and files for use in school or at work.
The Eevee Collection launches at Pokemon Center on August 26, 2017. Also releasing on the same day is Pikachu's Closet, featuring a high quality Pikachu plush that can wear different costumes.
Once Eevee Collection becomes available for pre-order, we'll post a new article so you can grab them online!
Here's the product and price list for every item releasing in the Eevee Collection. Gallery follows after the list.
Sleeping Plush Eevee 3,800 yen
Sleeping Plush Vaporeon 3,800 yen
Sleeping Plush Jolteon 3,800 yen
Sleeping Plush Flareon 3,800 yen
Sleeping Plush Espeon 3,800 yen
Sleeping Plush Umbreon 3,800 yen
Sleeping Plush Leafeon 3,800 yen
Sleeping Plush Glaceon 3,800 yen
Sleeping Plush Sylveon 3,800 yen
A4 Clear File EEVEE COLLECTION2017 (EV/SW/TD/BS/EF/BK/LF/GC/NP)240 yen each
Canvas Notebook (sold in a 5 books pack) EIEVUI COLLECTION2017 (A/B) 741 yen each
Mini Canvas Notebook (sold in a 3 books pack) EIEVUI COLLECTION2017 (A/B/C) 450 yen each
BIC Ball Pen(EV/SW/TD/BS/EF/BK/LF/GC/NP)300 yen each
Kamawanu Hand Towel EIEVUI COLLECTION2017 1,300 yen
Soy Sauce Dish EIEVUI COLLECTION2017 (EV/SW/TD/BS/EF/BK/LF/GC/NP)700 yen each