Dragalia Lost Earns Over 3 Million In Its First 5 Days
Dragalia Lost Earns Over 3 Million In Its First 5 Days
In an amazing feet, Nintendo's latest mobile IP, Dragalia Lost, has earned a revenue of about $3 million in US and Japan, and an additional $500,000 in the other released regions.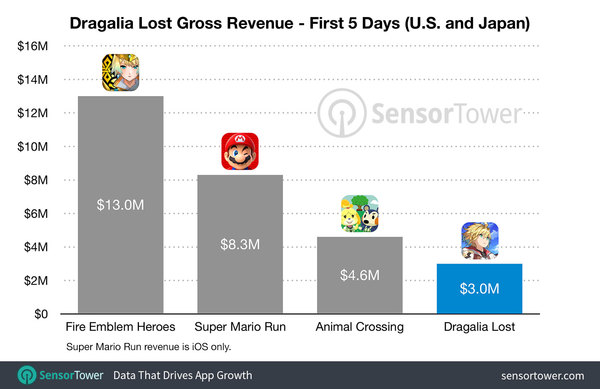 Even so, the earnings are a tad behind the rest of Nintendo's mobile games, placing even behind Animal Crossing Pocket Camp at $4.6 million in its first five days in US and Japan.
With its first weekend officially on the books, Nintendo's latest mobile release, Dragalia Lost, has grossed an estimated $3.5 million so far in its limited set of launch territories, which include the United States, Japan, Hong Kong, Taiwan, and Macau. Sensor Tower Store Intelligence data shows that the game has been installed more than 800,000 times across these regions on the App Store and Google Play.To compare this against previous Nintendo mobile game launches, we've analyzed Dragalia Lost's revenue so far in the publisher's two largest mobile markets, the United States and Japan. As you can see, its latest release had the smallest five-day haul, with players spending about $3 million.

Dragalia Lost Revenue First 5 Days

That's a little less than a quarter of the revenue Nintendo's most successful mobile game, Fire Emblem Heroes, amassed in the U.S. and Japan during its first five days back in February 2017. It's also about $1.6 million less than Animal Crossing: Pocket Camp grossed in the same post-launch period.

Dragalia Lost is currently ranked No. 11 for iPhone revenue in Japan, down from its high point of No. 10 on Saturday. It's ranked No. 55 for U.S. iPhone revenue, which is its highest rank on that store so far. On Google Play, the game is No. 3 for revenue in Japan and No. 35 in the U.S.

At this point after its release, Fire Emblem Heroes ranked No. 4 for iPhone revenue in Japan and No. 12 in the U.S.