Guide: How To Record Videos On Nintendo Switch
Guide: How To Record Videos On Nintendo Switch
The day has finally arrived – Nintendo Switch owners can finally record gameplay on Nintendo Switch! But how do you go about doing it and what kind of things do you have to take note?
In this guide, we have a full rundown on the Nintendo Switch Video Capture function, from instructions to supported titles. Let's go!
Note: Your Nintendo Switch has to be updated to version 4.0.0 in order to use video capture.
Supported Titles
At the time of writing, not every Nintendo Switch title supports video capture. Here's a list of titles that currently do. The list will be updated as more titles are supported.
| Title | Publisher |
| --- | --- |
| The Legend of Zelda: Breath of the Wild | Nintendo |
| Mario Kart 8 Deluxe | Nintendo |
| ARMS | Nintendo |
| Splatoon 2 | Nintendo |
| Super Mario Odyssey | Nintendo |
| 1-2 Switch | Nintendo |
| Monster Hunter XX for Nintendo Switch | Capcom |
| Stardew Valley | Chucklefish Games |
| Mutant Mudds Collection | Atooi |
| The Elder Scrolls V: Skyrim | Bethesda |
| Shovel Knight | Yacht Club Games |
| Graceful Explosion Machine | Vertex Pop |
| Axiom Verge | Thomas Happ Games |
| RIVE: Ultimate Edition | Two Tribes |
How to record videos
Recording a video is simple. Simply hold down the Capture button (a flat square button with a circle) on the left Joy-Con or Nintendo Switch Pro Controller while playing a supported title. Doing this will record up to the previous 30 seconds of gameplay, which is smart since you never know when something might happen in game!
Where to view videos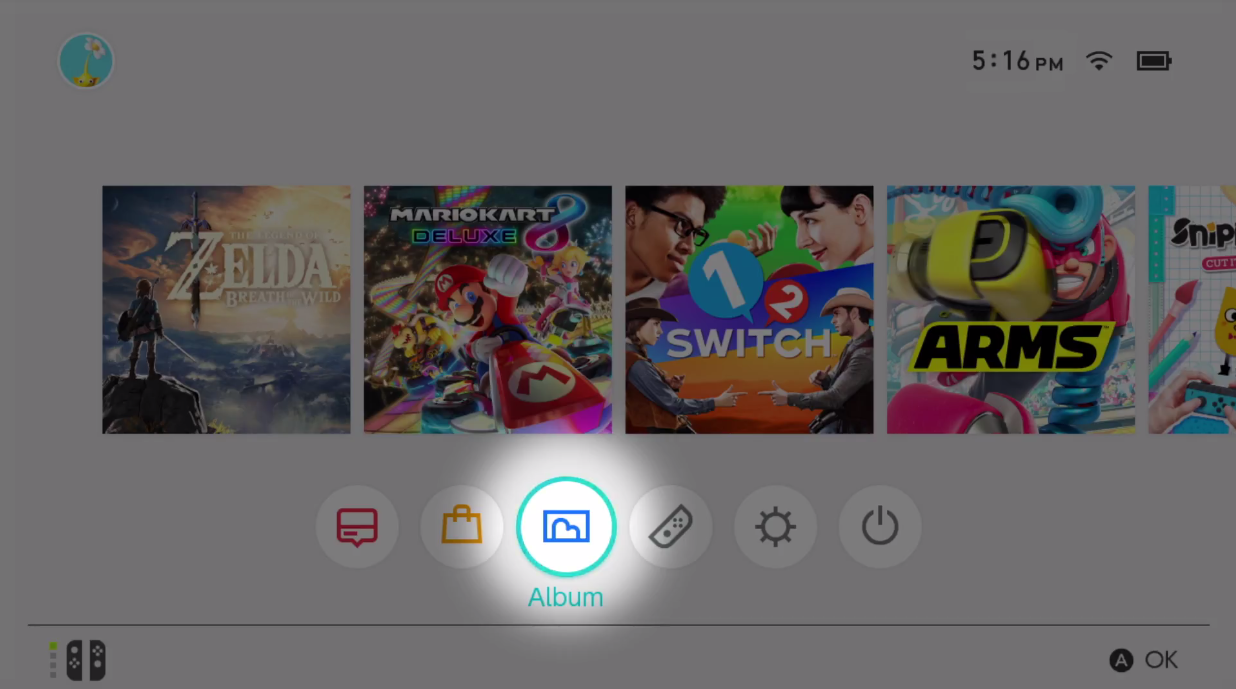 Recorded videos can be viewed inside your Album, which can be accessed anytime on the Home Menu.
I have too many screenshots. How can I make the videos only display?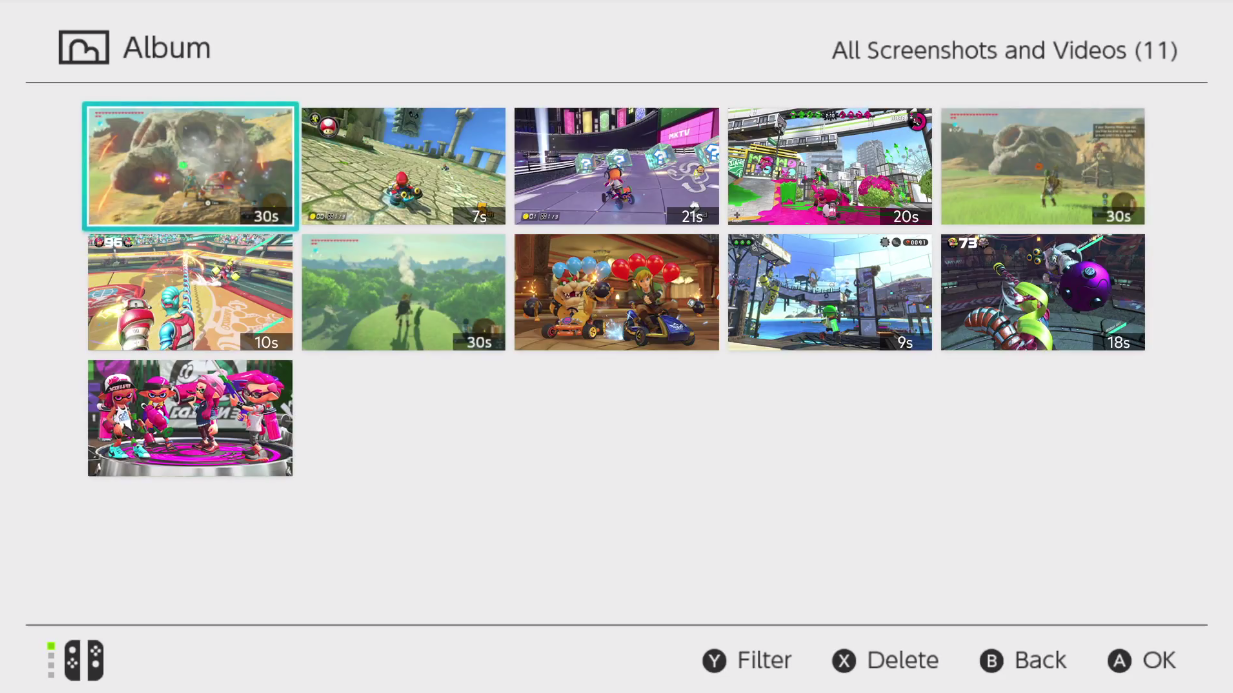 Pretty simple. Press Y to filter, and select "videos only".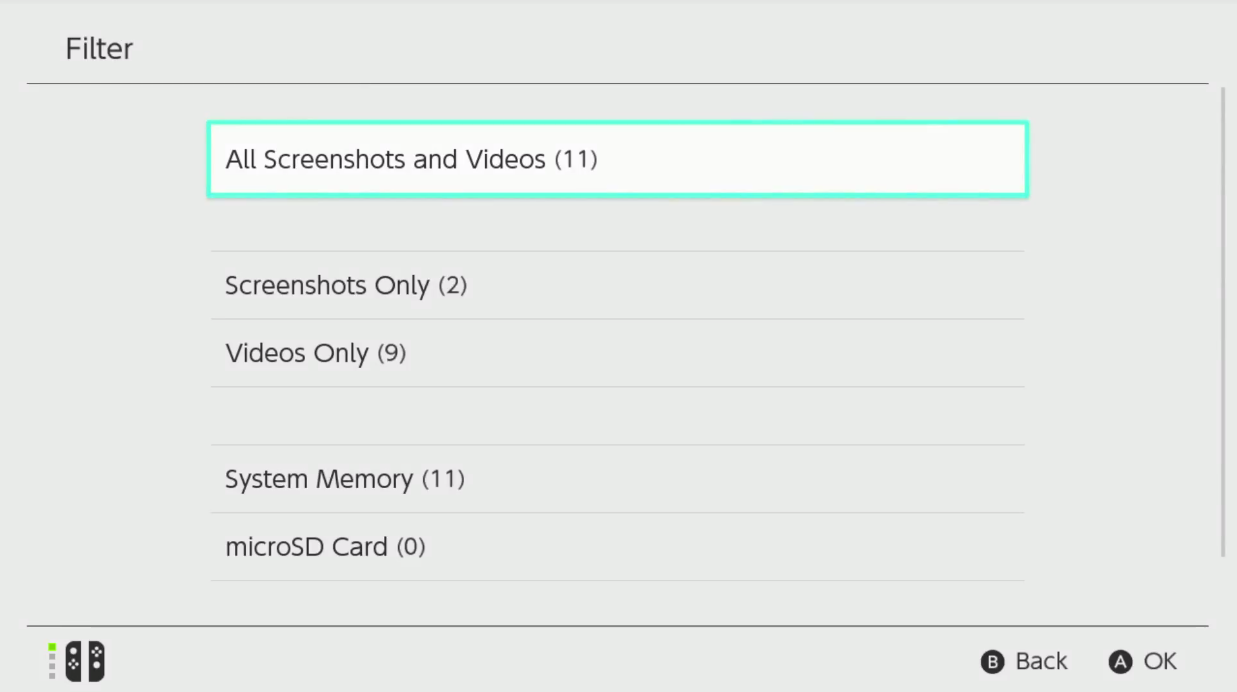 Other things you can do with videos (Trimming, Save as Screenshot, Sharing, Copying)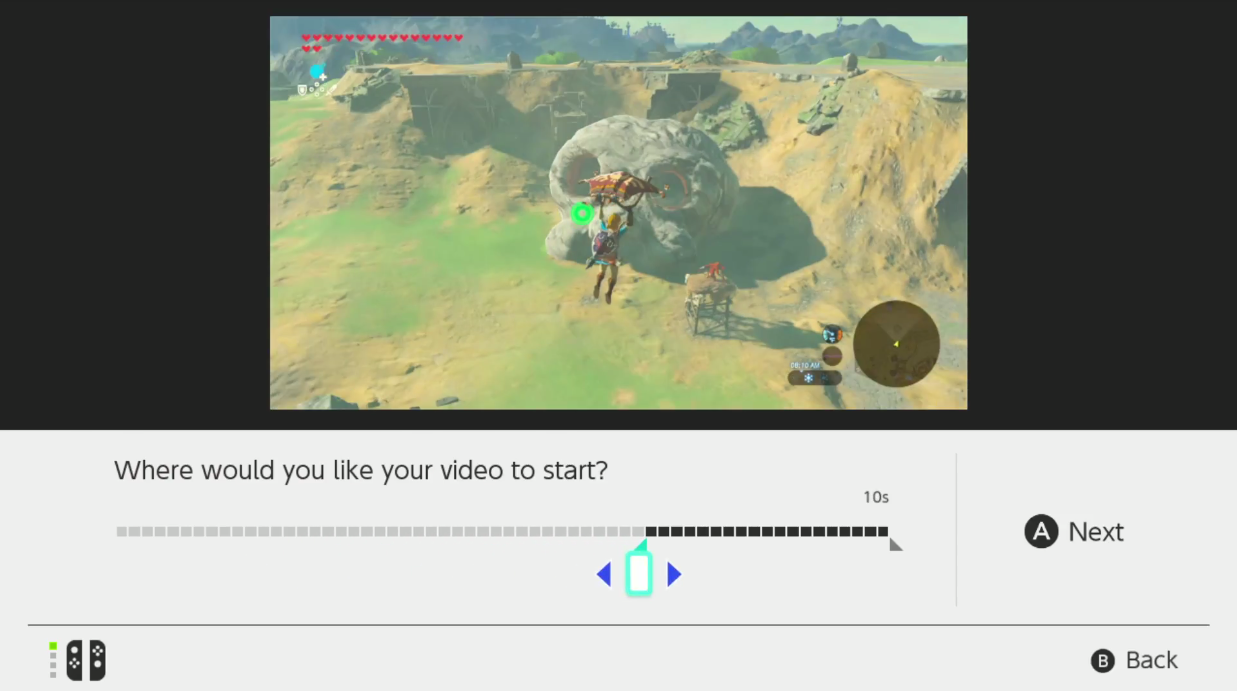 There are a few more things you can do with your videos. By selecting a video on your album, it'll start playing.
Selecting "Editing and Posting" by pressing A when a video is being played opens up another menu of options – Post, Trim, Save as Screenshot, Copy.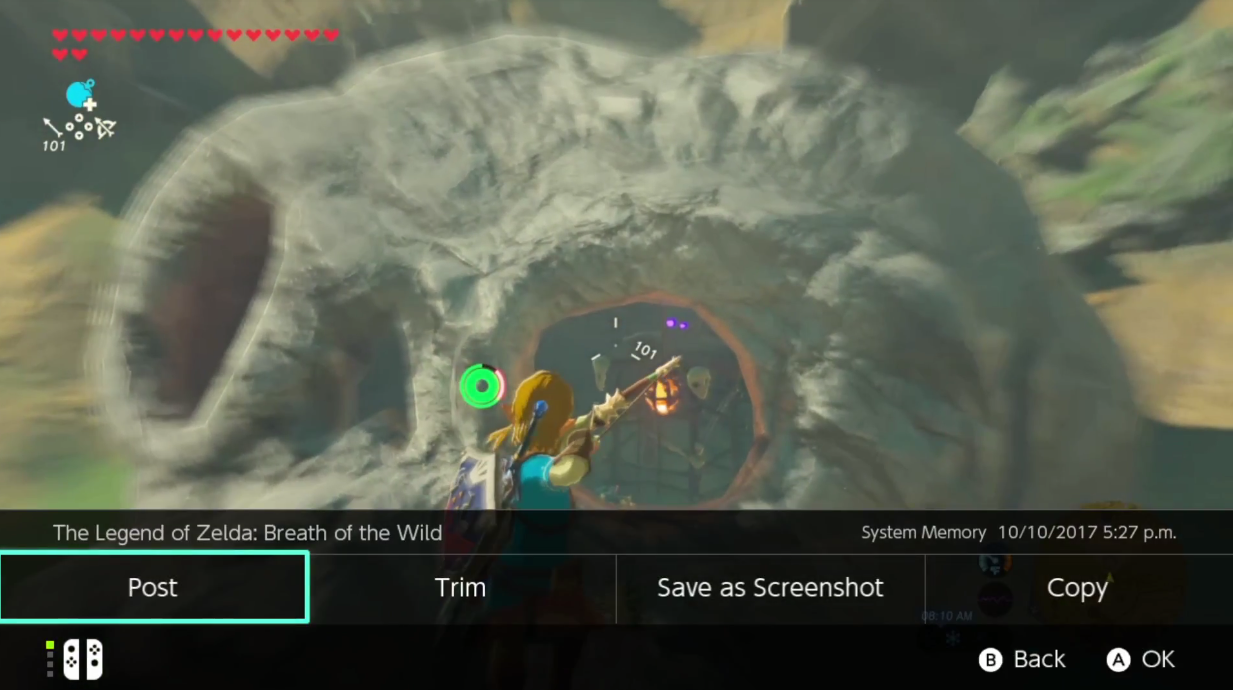 If you want to upload videos to Facebook or Twitter, select Post. The video will be shared on your timeline or Twitter feed with other people. You'll need to be connected to the Internet to share videos.
To trim a video, head over to Trim. You can trim the video if you wish to change its start and end time. As a new video with be created after its trimmed, the original video will remain in tact.
Want to save a single frame on the video as a screenshot? Select "Save as Screenshot" and the frame that you've chosen will be saved as a new screenshot in your Album. The original video will not be deleted.
To copy a video, simply press copy. The duplicate video will appear in your Album.
Deleting videos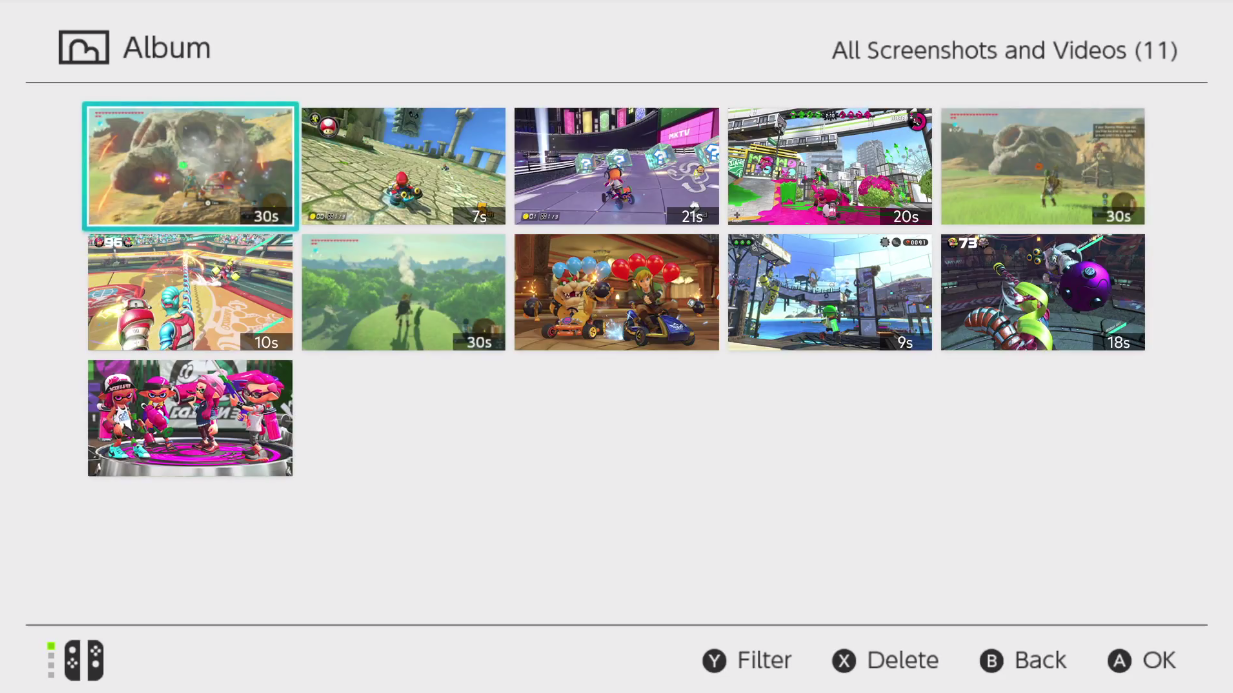 Deleting videos is the same way as deleting screenshots. When you're inside your Album, press X, and choose the video that you want to delete.
How can I record videos longer than 30 seconds?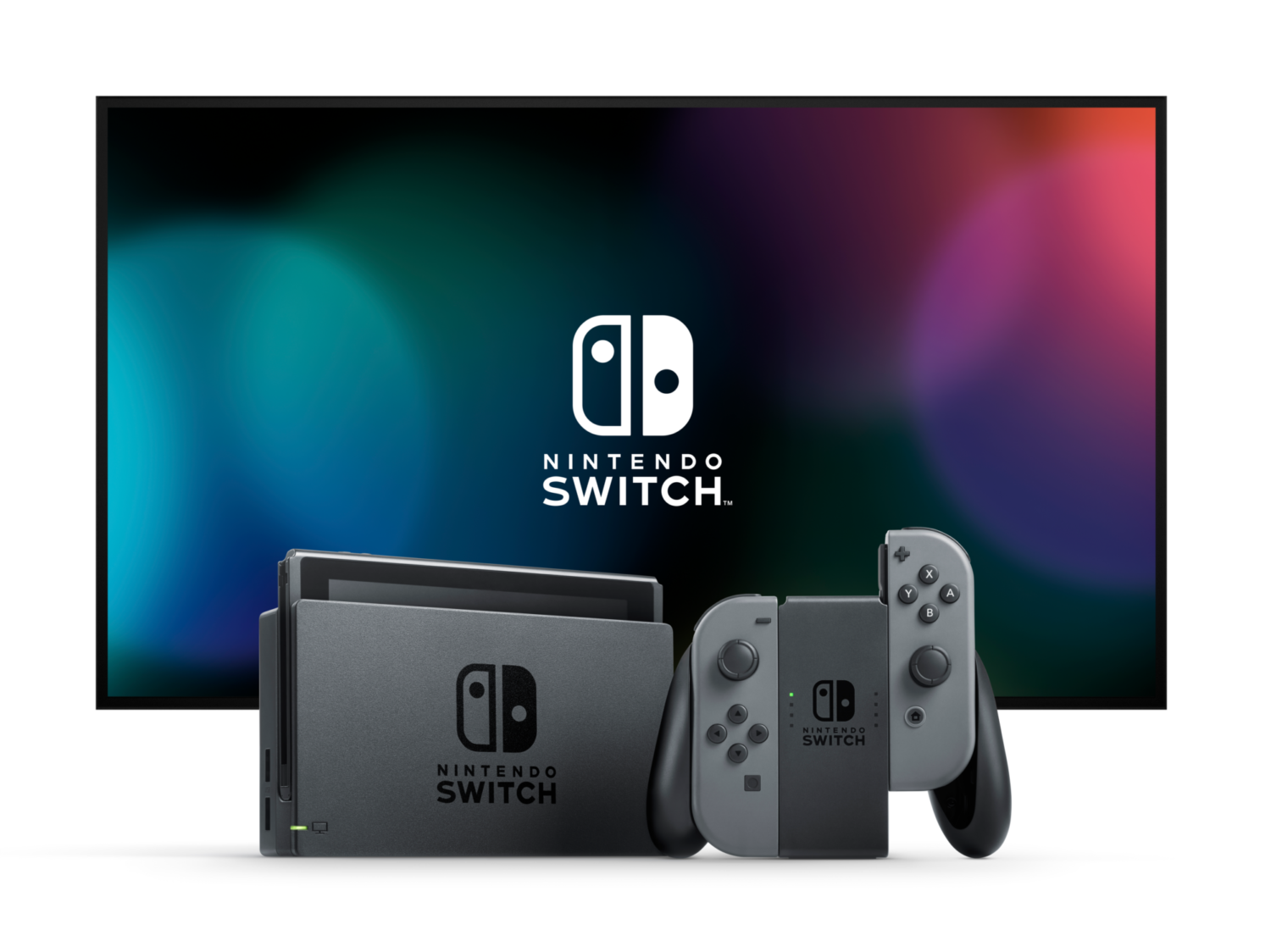 To record videos longer than 30 seconds, you'll need a capture card, an accessory that records gameplay on Nintendo Switch and other gaming devices. We recommend the Elgato capture card, which you can purchase from Amazon here (ships worldwide).