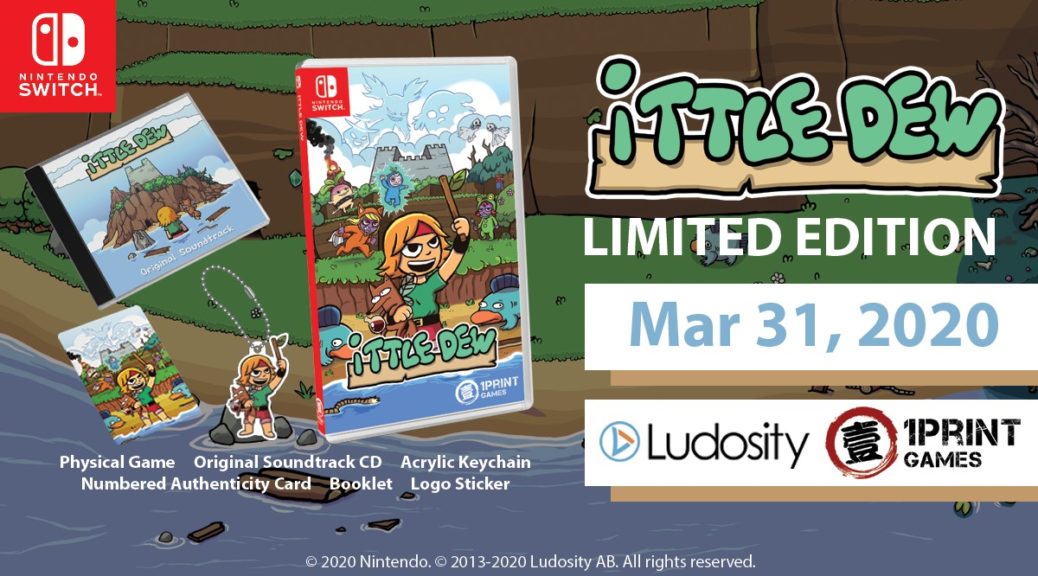 Ittle Dew Limited Edition Launches March 31 For Nintendo Switch
Ittle Dew Limited Edition Launches March 31 For Nintendo Switch
Been waiting to grab your hands on the exclusive physical release of Ittle Dew by Ludosity and 1Print Games? The wait will finally be over at the end of this month!
As promised yesterday, 1Print Games has revealed major new details for its physical release of the game. For starters, this release will sport completely original cover artwork along with extra goodies such as a soundtrack CD, acrylic keychain, and more. Additionally, this physical version of the game will include exclusive Chinese language support – for the first time ever!
Finally, the publisher confirmed that fans will be able to pre-order the game from its website starting today, for $34.99 USD. The game will ship out shortly afterwards, on 31 March 2020.
You can find the full details below, as well as a link to purchase the game:
Ittle Dew Limited Edition Launches March 31 Exclusively For Nintendo Switch™️

The original Ittle Dew is finally getting the physical treatment!

March 6, 2020 – 1Print Games, an independent publisher focused on releasing exciting physical indie games, and Swedish indie studio Ludosity are proud to officially announce the first details for the Ittle Dew Limited Edition for Nintendo Switch.

After 6 years, Ittle Dew, a charming and hilarious hand-drawn puzzle game which has captivated the hearts of many players across the world, is finally receiving the physical treatment on Nintendo Switch. 1Print Games and Ludosity have worked closely together to make this Limited Edition a treat for longtime fans and gamers.

The Ittle Dew physical edition for Nintendo Switch will feature all-new colorful artwork introducing gamers to the island's many crazy inhabitants. And for the first time in the Ittle Dew series, Ittle Dew has been officially localized in Traditional Chinese and Simplified Chinese. The Chinese language options are exclusive to the Ittle Dew physical edition.

The Ittle Dew Limited Edition is scheduled to launch on March 31, 2020 for USD34.99 via the 1Print Games website. Every Ittle Dew Limited Edition comes with a copy of the Nintendo Switch physical game, Ittle Dew Original Soundtrack CD, Ittle Dew and Tippsie Acrylic Keychain, Ittle Dew Numbered Authenticity Card, Ittle Dew Adventurer's Guidebook, and Ittle Dew Logo Sticker.

"We're over the moon excited to have such a beautiful package of one of our dearest games," says Ludosity CEO Joel Nyström. "It feels like everything has come together with this release – the best version on the best platform with lovingly created extras such as the all new manual and goodies in the box. We couldn't be happier, and working with 1Print Games has been so smooth and easy for us. They have worked fast and hard to make everything we've planned happen."

"It's been a pleasure to work with Ludosity to bring Ittle Dew physically to Nintendo Switch," comments 1Print Games director Iggy. "I hope fans and gamers will enjoy what we have prepared in this limited edition release."

Ittle Dew is now available for pre-order at the 1Print Games website.