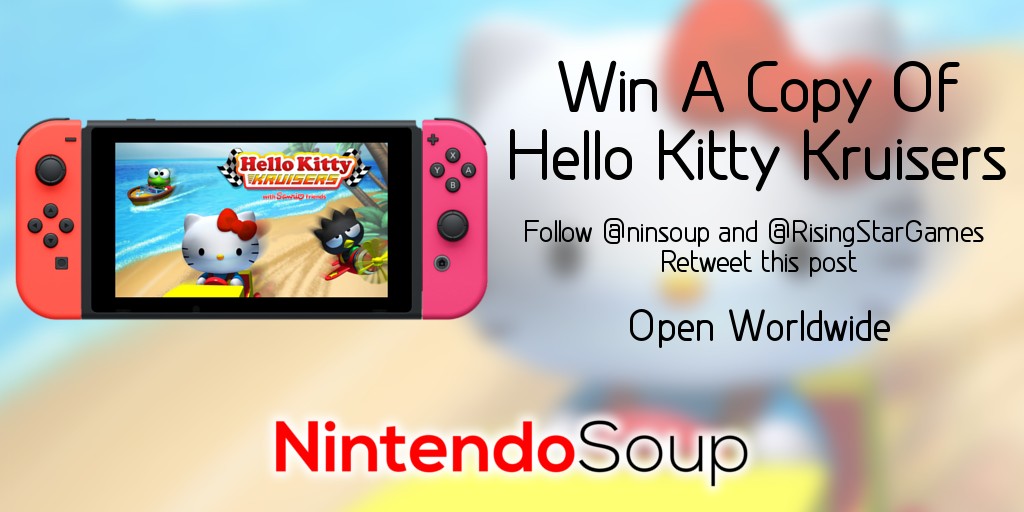 NintendoSoup Giveaway: Hello Kitty Kruisers For Nintendo Switch
NintendoSoup Giveaway: Hello Kitty Kruisers For Nintendo Switch
Congratulations to our 2 lucky winners!
And the lucky winner of our #HelloKittyKruisers for #NintendoSwitch giveaway is…@Jiaw3i! Congratulations! Please DM us to receive your prize.

— NintendoSoup (@ninsoup) May 21, 2018
Hey everyone! Welcome to NintendoSoup's 25th giveaway!
This week, we're giving away two copies of Hello Kitty Kruisers, the latest party racing game featuring Hello Kitty and friends for Nintendo Switch.
To enter the giveaway, simply head over to Facebook and/or Twitter.
Win a copy of #HelloKittyKruisers for #NintendoSwitch!

Follow @ninsoup and @RisingStarGames and Retweet to enter.

Open worldwide, ends May 21 6am PT.

Increase your chances by entering on Facebook: https://t.co/B4WfyR6wg2 pic.twitter.com/6PUNWmjZzQ

— NintendoSoup (@ninsoup) May 8, 2018
Giveaway ends May 21, 2018 6:00am Pacific Time. 1 winner will be randomly chosen on Facebook and 1 winner will be picked on Twitter. Open to everyone worldwide.
Good luck!