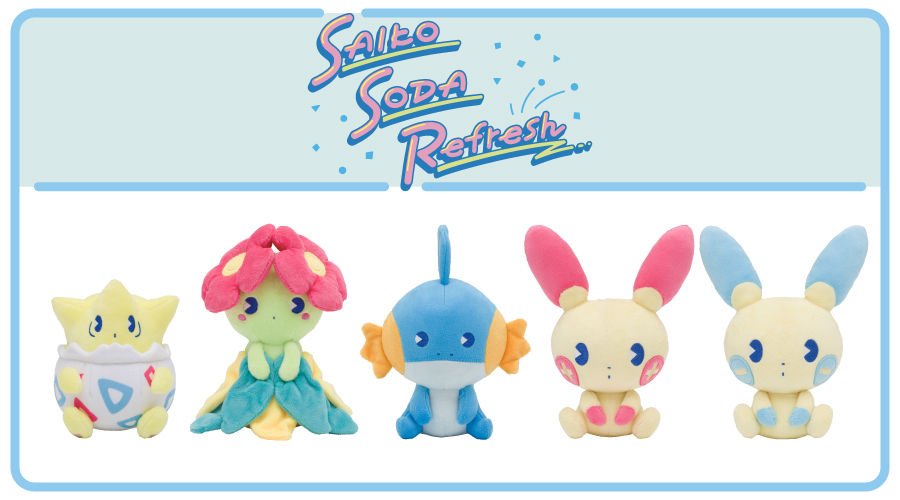 Pokemon Center Japan Announces Saiko Soda Refresh Plushies For Togepi, Bellossom, Mudkip, Plusle, And Minun
Pokemon Center Japan Announces Saiko Soda Refresh Plushies For Togepi, Bellossom, Mudkip, Plusle, And Minun
Back in 2018, Pokemon Center stores in Japan introduced a set of adorable 'Saiko Soda' merchandise that featured various Pokemon in a retro art-style. Well, even more additional cuties will be heading to the line-up soon!
The Pokemon Company is once again teaming up with illustrator F*Kaori to produce five new Saiko Soda Refresh plushies. As you can see above, these five Pokemon will be Togepi, Bellossom, Mudkip, Plusle, and Minun. Japanese folks will be able to grab them at Pokemon Center stores from 17 December 2022 onward.
You'll also be able to grab these goods from Amazon Japan when pre-orders open a week later. In the meantime, check out some teaser images below!
Togepi Plush 1,760 yen
Bellossom Plush  1,760 yen
Mudkip Plush 1,760 yen
Plusle Plush 1,760 yen
Minun Plush 1,760 yen