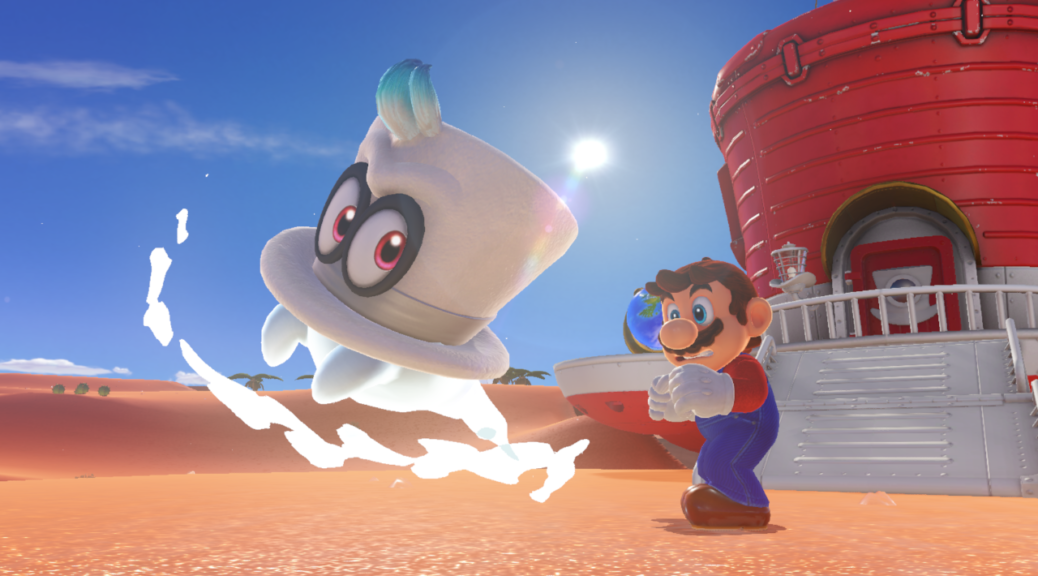 Super Mario Odyssey director says Mario is human, explains why he's so different
Super Mario Odyssey director says Mario is human, explains why he's so different
Super Mario Odyssey is probably one of the most refreshing 3D Mario games in recent times. There are lots of questions left unanswered, so Vice Canada sat down with Super Mario Odyssey director Kenta Motokura to ask some questions.
One important question is whether Mario is a human being, since there are humans living in New Dork City. Here's what Motokura has to say.
Is Mario human?

Mario is human.

Really? Why is he so different?

In the world, there are many different types of people, you know.

Good answer.
Super Mario Odyssey is also the first game where Mario travels outside the Mushroom Kingdom around the world. Motokaru explains why it's important to see the world.
Why was it important to make Mario travel across the world? Why is it important to see the world as it is instead of just seeing Mushroom Worlds?

This is a journey following Mario to save Princess Peach, one of his most [beloved], so we wanted to make this an epic journey. As players, we haven't even gone to all the places that we want to visit, and we haven't discovered all the places that we can. Through this game, we thought we could do that and bring a different experience to everyone.
There's a possibility the green mustache brother will be appearing in Odyssey, too.
Will Luigi come back in this game? Will you offer a multiplayer mode?

We are considering putting in many characters, and Luigi may appear, I don't know. And, as you know with the Switch, you can share Joy-Cons, so there may be multiplayer.
Many more interesting questions concerning the game's development, characters, and plot were also asked during the interview, which you can check out below.
This is one of the most anticipated games at E3, do you feel pressure while you are developing the game?

Kenta Motokura: Honestly the pressure from my boss is harder to take (laughs). When we make a game, we just think of one thing after another that is fun that we can put in there, so I don't really feel pressure.

This type of game is often called 'sandbox.' Can you explain what is meant by a 'sandbox' type of game?

One of the things that I definitely feel is important is being able to put in many different elements and different gameplay within one stage. Another thing that I find is crucial is to be able to look over the whole entire stage and to be able to see what's in and around the environment.

I feel that there is a comeback to an old style of gameplay that was present, for example, in Super Mario 64. Was it what you wanted to do—to come back to the core of Mario?

Starting off, we were not intending to go back to Super Mario 64. When we were making prototypes [for Super Mario Odyssey], we added in Super Mario 64-type elements to the stages, which we thought fit the style of the game best.

It seems that the world of Mario is more open than ever, can you elaborate on that?

Mario jumps out from Mushroom Kingdom and travels across the world—so he definitely is on a big journey.

In Super Mario Odyssey there's a new currency that allows Mario to buy costumes, and we see Bowser wearing a suit. What does it mean to see those two characters become fashionistas?

Well yeah, maybe Mario is becoming a fashionable guy. When we designed the costumes, we had in mind that when people travel they want to try on the clothes of the people that live there. So, we thought that we would incorporate that concept.

Mario uses his hat to attack in this game – I think his name is Cappy – is the hat alive or is it just a weapon?

He is alive.

In this game when you throw your hat at something, you can become that thing. I know that Kirby had a similar power in past games—did Kirby influence you in the development of this game?

We weren't specifically influenced by Kirby necessarily, but we were thinking, "oh you want to jump higher or swim faster," so we implemented that into the characters.

How does the fact that the Switch is a mobile device affect the gameplay?

In this game, you need to collect a lot of powers, which you can get through completing the main story, or you can collect powers on the side. And so, to get these power moves you can spend either a long time or a short amount of time, depending on however you want to play. If you are playing on handheld, there are power moves that you can collect in 2 or 3 minutes, or if you want to spend more time on boss fights or a lengthier quest you can do that as well. So, the Switch is perfect for that.

In the gameplay that we saw at E3, we see that there are a lot of things hidden in the world, including references to the first Super Mario Bros. Did you in some way create this game for the old-core gamers like me that got to know Mario in the 80s and 90s?

Yes, we definitely thought about nostalgia for players who have previously played other Mario games. This world consists of 3D and 2D and we wanted to mix things up. Therefore, we implemented the 2D aspect as well.

Finally, as we don't see many pipes in the game, is Mario still a plumber?

In the January promotion that we saw Mario jumps out of a manhole so I think he is still doing his job.