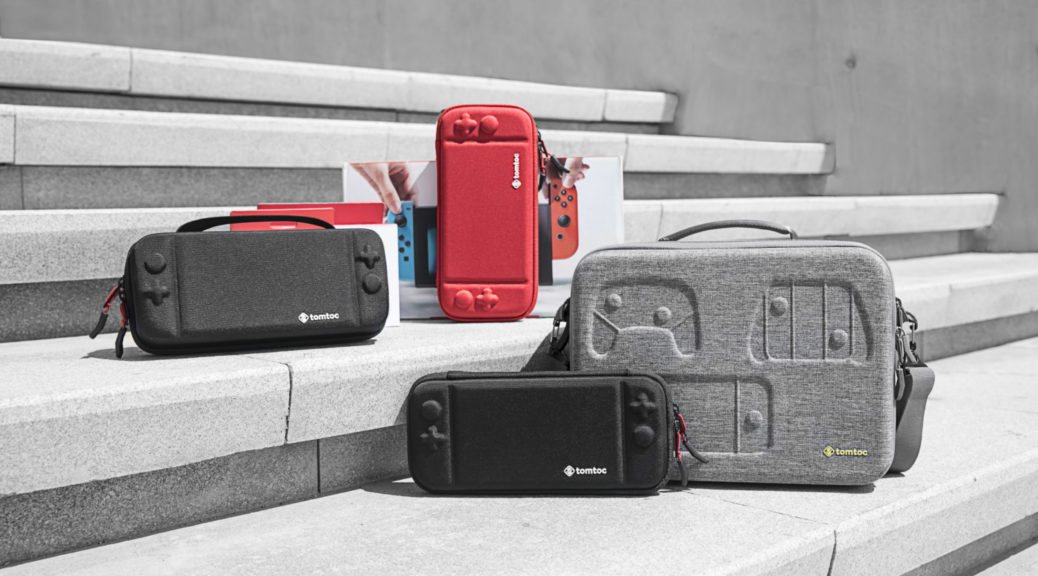 Tomtoc Nintendo Switch Cases Now Available In The US
Tomtoc Nintendo Switch Cases Now Available In The US
Accessory maker Tomtoc has released updated versions of their Nintendo Switch cases in the US.
The new designs come in three different sizes and multiple colors, so there's something for everyone. The three types of products available are the slimmest Nintendo Switch case, Nintendo Switch Travel Case, and Professional Nintendo Switch Storage Case.
Check out the photos and details below.
You can order Tomtoc's latest Nintendo Switch cases from Amazon US (ships worldwide).
After hundred times of testing and adjusting, we are now proudly sharing this extremely exciting news – our Nintendo Switch Cases has been updated to perfectly protect your devices without any flaws! We made extraordinary amount of efforts to ensure that our cases are advanced designed with the best quality, and so that players waste no efforts to protect their devices.

From small and slim to travel and professional, tomtoc has thoughtfully designed three different Nintendo Switch cases to satisfy all your needs and to protect your Nintendo Switch from every angle and perspective. After hundreds of thousands times testing and redesigning, we finally come out with three satisfying products for different user groups.

3 Layers Of Protection

To get the best protection for your Nintendo Switch products, we combined three layers of different light materials for tomtoc Switch cases.

The outside — Soft textile material, with your choice of colors. Not only does your Switch Case look stylish and modern, it also provides a water resistant cover.

The second layer — EVA hard-shell, resistance to dropping, knocks and bumps. Water proof and extremely light.

The inside layer – Soft fleece to prevent the device and screen from wearing.

YKK zipper — We have done the test of our zipper repeated pull over 20,000 times.

The Slimmest Switch Case

– Ridiculously Light. Seriously Thin.

Considering users may want to maximize the usage of your bag space as much as possible during a short trip, tomtoc slim case with a device inside is only 4cm which uses only little space of your travel bags. Our ingenious and slim-line design also allows for easy carrying.

The unique outer shell design is not only for a good looking, but to avoid pressure focus on the joysticks directly.

Users will find this Switch case fits their console like a glove. Therefore it is more economical and practical than many similar products. In addition, the case comes with a storage sheet which can accommodate up to eight game cards, and an extra accessory pouch to carry and store chargers, adaptor and other accessories, which helps cover extra needs for users if they are going for long holiday.

Nintendo Switch Travel Case

– Fit a full experience into the lightest case

Travel case is a larger case which was designed for frequent travel players. A fabric handle allows players to carry it to everywhere. It holds up to 18 game cards, Nintendo Switch AC adapter and 2 joy-cons or other accessories. An inside soft device stand allows users to play while charging at any locations, and the unique design of the stand promises better sound effects and avoid any heat dissipation issues.

Professional Nintendo Switch Storage Case

– More Space. More Organized. More Pro.

Storage case is more like a Switch "garage", you can put all the accessories as many as possible in to the storage case. There are 32 game card slots, and spaces for both left and right joy-cons, HDMI cable, Switch Dock, 4 joy-con straps and everything you own. It absolutely helps professional players to be more organized with everything. We put special designed foam-padding shaped to fit all your devices and accessories, which makes your devices much safer in transit. Plus an extra handle and adjustable strap provides players with multiple ways to carry it on the road.

About us:

tomtoc is a design driven bags brand following religiously the human-centered principle. We produce quality products for laptops and digital gears with a fine regard for functions and details. All tomtoc products are manufactured with premium materials in a continuous venture to protect the tech you rely on and enhance life on the go.