Game Review: Qbics Paint
Game Review: Qbics Paint
Qbics Paint is not a game that you see every day on the Nintendo Switch. Neither is it a very conventional game in any sense. But how does Abylight Studio's unique new game stack up on Nintendo's latest hardware? Let's find out.
Gameplay
To understand the fundamentals of Qbics Paint, I think it is important to understand what Abylight Studios set out with. The game is best described by none other than the renowned sculptor, Michelangelo, about 500 years ago.
"The sculpture is already complete within the marble block, before I start my work. It is already there, I just have to chisel away the superfluous material." ~ Michelangelo
That is essentially the essence of Qbics Paint. The game starts you out with a block of (I would assume) stone, and all you have to do is continuously chip away at it until the sculpture trapped within the block is freed.
Your job is to take this: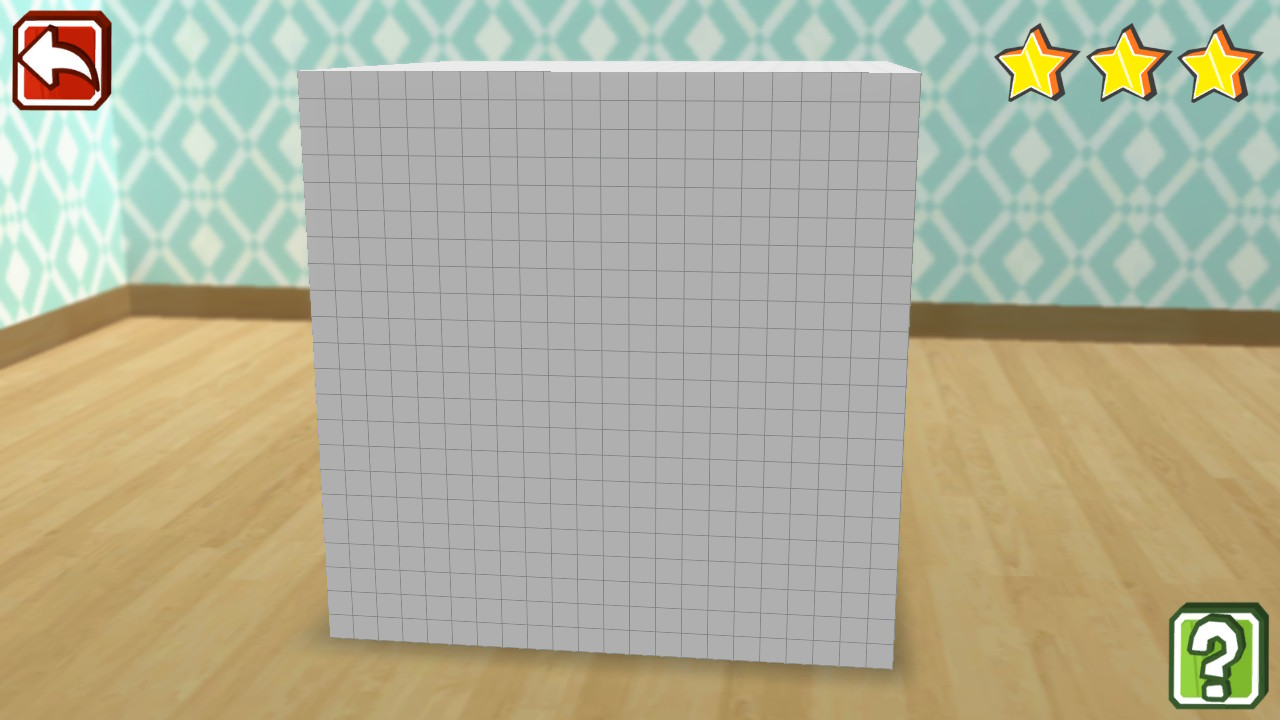 then tap on the touch screen,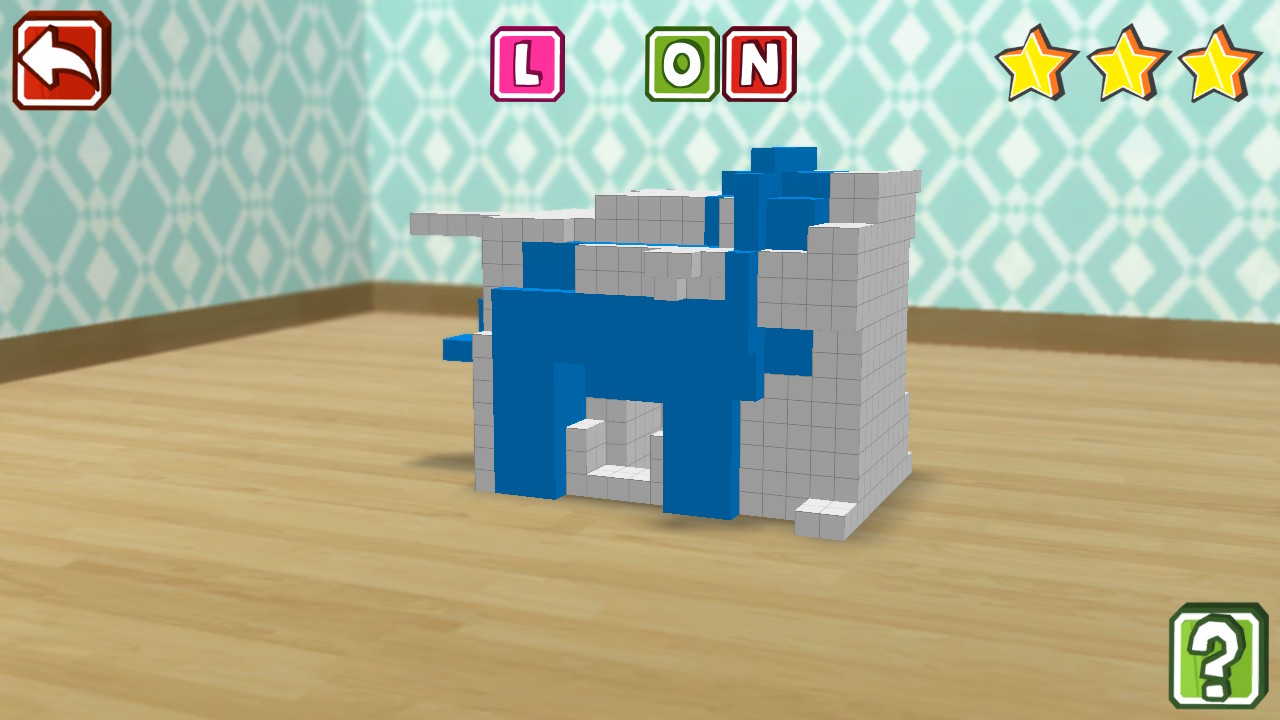 until slowly, voila! It becomes this: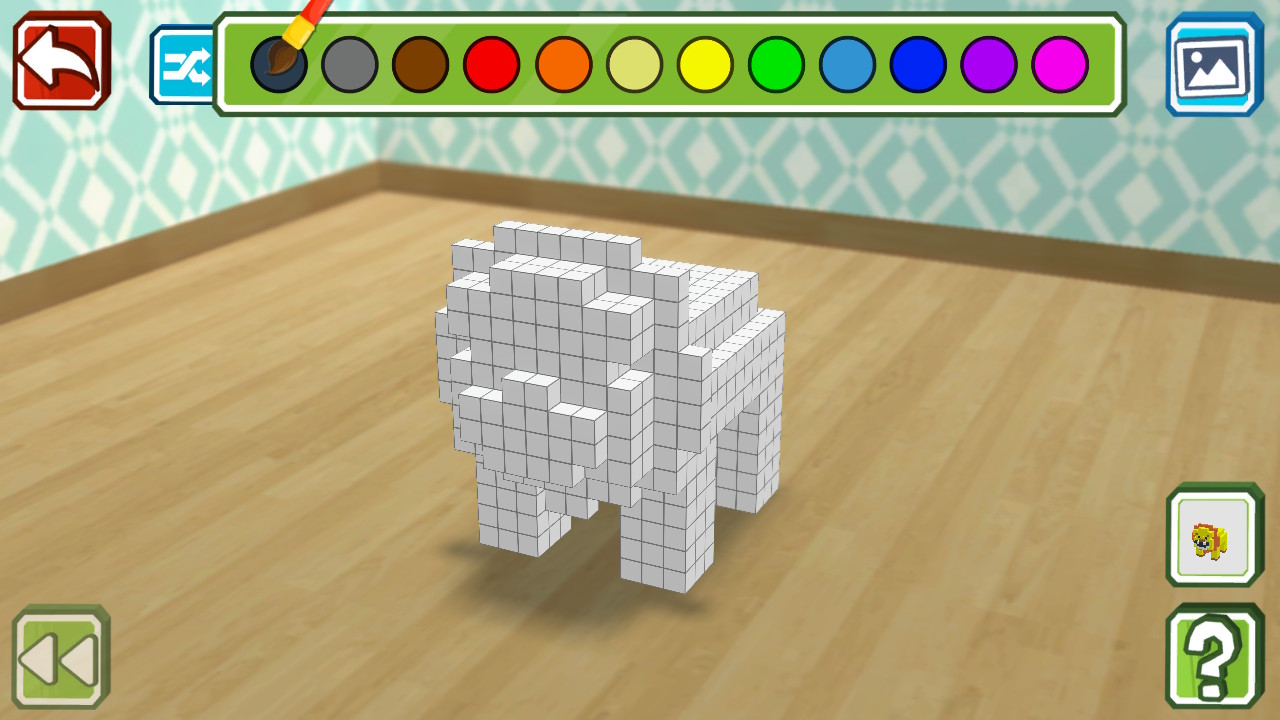 After sculpting, that's where the paint part of Qbics Paint comes in and you get to touch paint the sculpture to your liking. There is also a handy guide for you to follow should you feel less than creative. After the whole process, you get to pose your sculpture against a wide array of backdrops.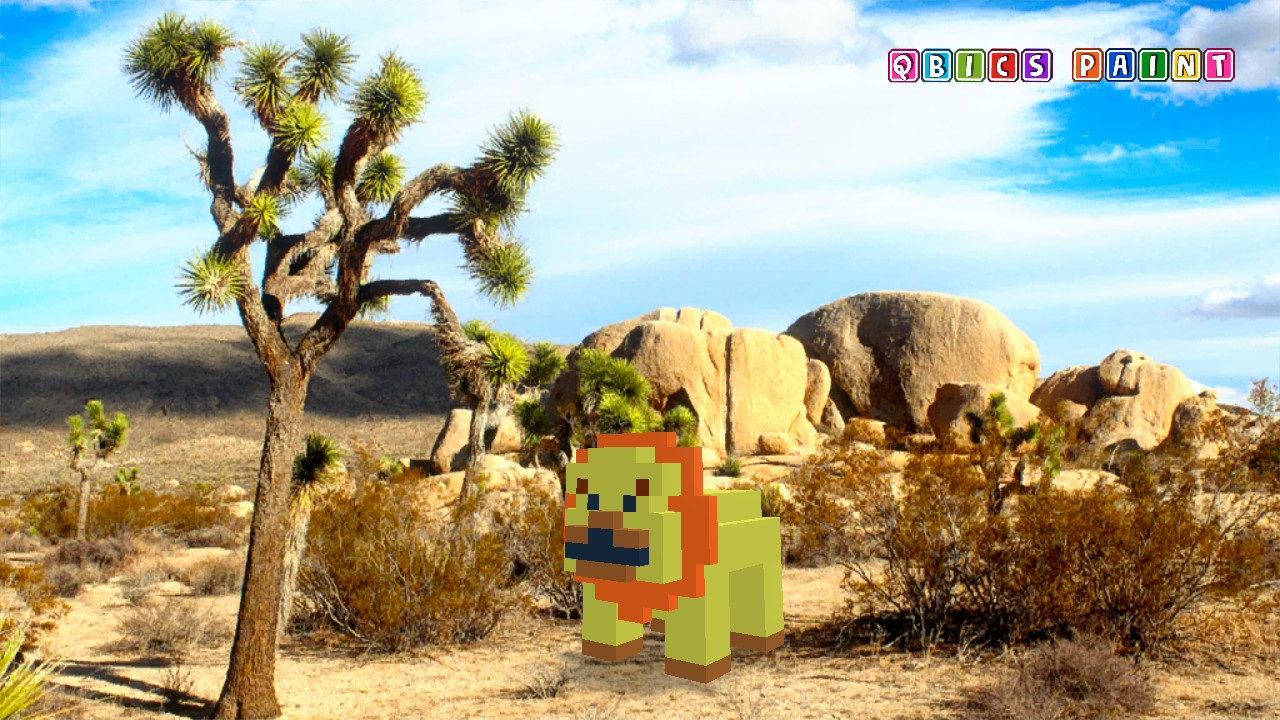 The premise of Qbics Paint is that simple, yet each of the 80 sculptures provides for a therapeutic time. When played along with relaxing classical music, Qbics Paint is a fantastic game to relax with. There is not much to think about, there is not much to compete about, all you do is focus on freeing the sculpture. My only complaint is that sometimes, certain sections of the bricks can be hard to reach and sculpted, especially when you can't turn the camera to the underside of the sculpture.
On top of sculpting, there is also a maker mode to fully unleash your creativity. In maker mode, you get to design your own sculpture and paint it. You start off with a clean slate, and just like playing Minecraft, you build sculpture up brick by brick within a 20 x 20 x 20 cube confine.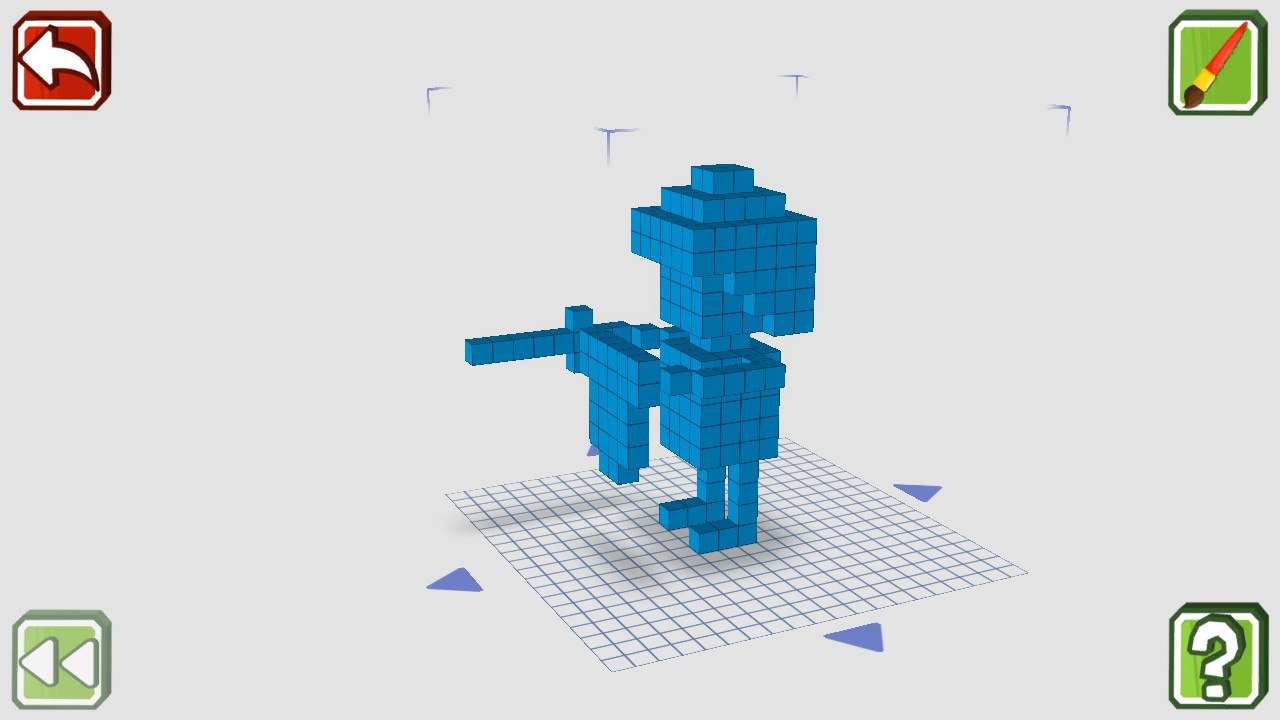 Maker mode proved to be very fun indeed, though it would definitely require more creative juices than just sculpting. It would be nice if there was also a mode where I can slowly chip a full 20 x 20 x 20 block into my figure instead of building it up from nothing, but I guess building it from scratch is fine as well.
Controls
By utilising the Nintendo Switch's touchscreen, chipping away at the bricks is intuitively simple. However, that same controls is also the pitfall of Qbics Paint. Qbics paint is only playable in handheld mode when the touchscreen can be touched. The only button you would ever press in the game is the screenshot button and even that is optional. This means no docking and playing on the TV, no laying it down on the table, it can only be played on your hands. This feature/flaw makes the game seem like it is on the Switch just because it can and not customised or improved for the Switch's unique hardware.
To prove my point, I even played the game on my daily commute without the joy-cons attached and it was totally possible. Though it may seem as if that was a compliment, it is not. Being touch only, the game could have very well been on my smartphone or tablet instead of the Nintendo Switch. Yet it is on the Switch, under utilised.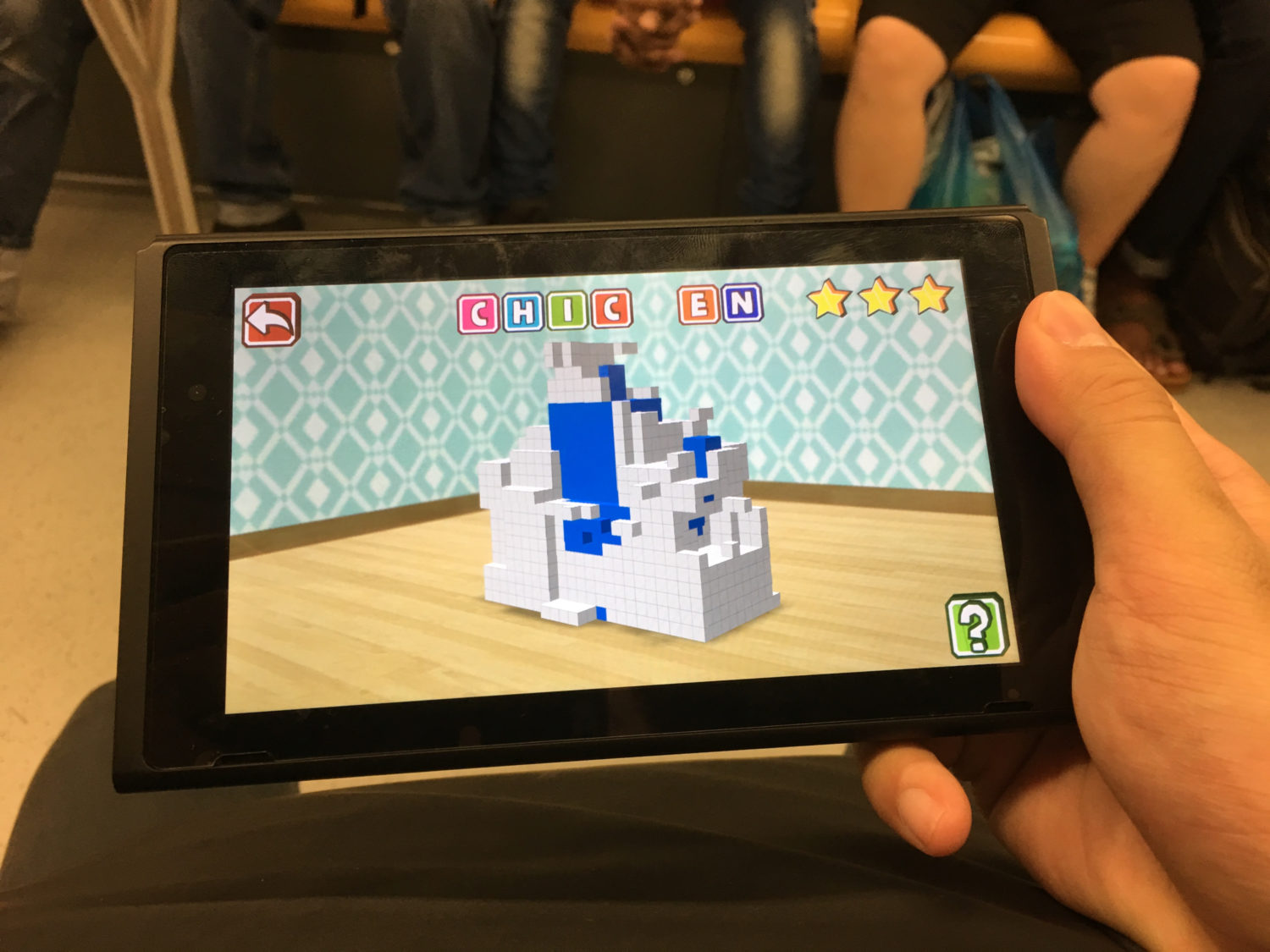 Art and Music
For a game with such a strong artistic inspiration, the art of Qbics Paint lives up to its inspiration. Its cutesy sculpture, as well as, its palette of paint colours provide more than adequately for anyone to showcase his/her creativity. The myriad of background choices also allows you a chance to be the hipster photographer you always wanted to be. You can shift your sculpture anywhere within the background, enlarge, tilt and even add a drop shadow to create the perfect wallpaper.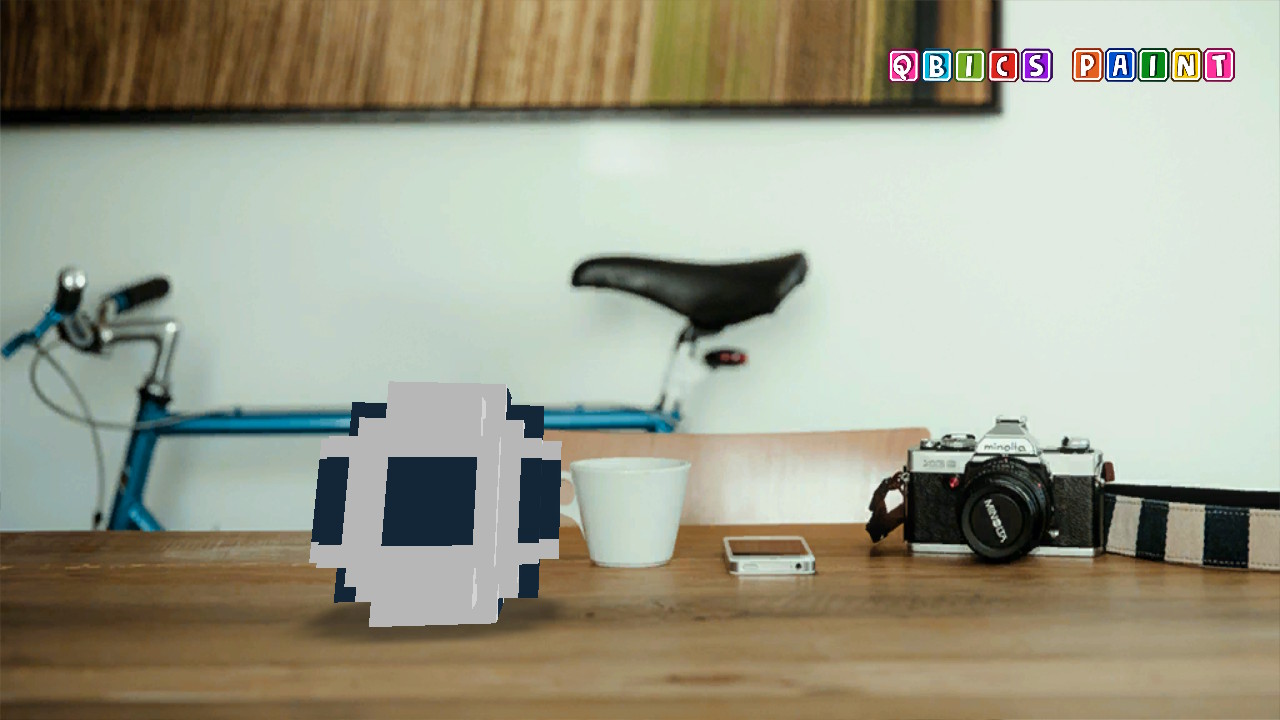 Music wise, though not exactly over the top, was quite fast for a relaxing game like this. Instead of creating their own pieces, classical songs such as Beethoven's Piano Sonata No. 14 would have been perfect for the game. You could choose to play your own relaxing tunes instead but then you'll need a music device such as a smartphone next to you; which happens to be the device the game should have been on in the first place.
Overall TL;DR
Qbics Paint is a relaxing and therapeutic game that is sure to build patience and relieve stress. It is possible to see anyone and everyone enjoy a game like this. However, its stubborn use of touch controls only and reluctance to find ways to utilise the Nintendo Switch's full potential is somewhat disappointing.
Pros
Brilliant concept
Therapeutic and stress relieving
Cute and commendable art style
Creative juice trainer
Easily enjoyable by everyone
Cons
Touch only, no TV mode play
Music could be more relaxing
Verdict
Brilliant Nourishing Soup Served on the Wrong Dinnerware.
Qbics Paint arrives for the Nintendo Switch on 27 July 2017.
A review copy was provided by Abylight Studios for the purposes of this review.