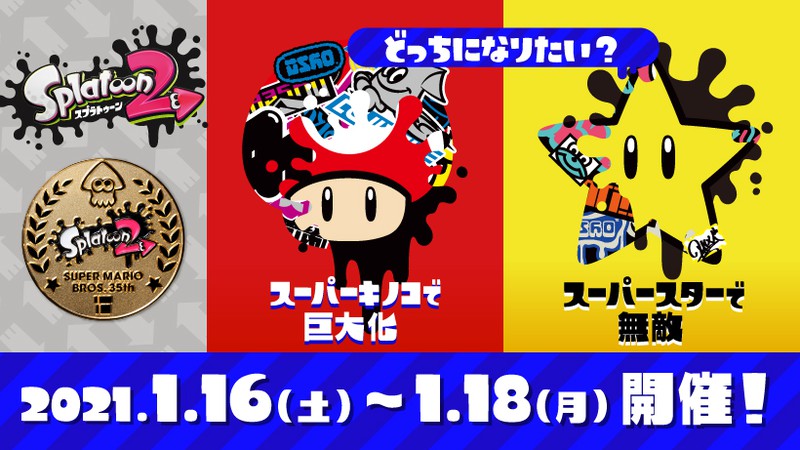 Super Mario Bros. 35th Anniversary Starts January 16th 2021 For Splatoon 2 In Japan
Super Mario Bros. 35th Anniversary Starts January 16th 2021 For Splatoon 2 In Japan
Nintendo has announced the start date of the Super Mario Bros. 35th Anniversary splatfest for Splatoon 2.
Originally revealed during the Super Mario Bros. 35th Anniversary direct, this Super Mario Power-Up splatfest will run from January 16th till January 18th in Japan. As seen in the image above, the splatfest will put Team Mushroom against Team Power Star in a battle for Power-Up supremacy.
スーパーマリオ35周年コラボフェスの日程が発表された!
期間は来年1/16(土)7:00~1/18(月)7:00の48時間。
今回は特別に、参加者の中から合計300名にプレミアムメダルがもらえるチャンスもあるという。
詳細はこちらでチェックしてほしい。#スーパーマリオ35周年 https://t.co/JlBKhCnfHa

— Splatoon(スプラトゥーン) (@SplatoonJP) December 9, 2020
In addition, Nintendo also announced some special physical rewards for participants in Japan. 300 lucky participants will have a chance to win a commemorative Super Mario 35th Anniversary Splatoon 2 medal. 100 of these medals will be given out to the Top 100 players in the splatfest, while another 100 will be given out randomly via lottery.
What do you think? Let us know in the comments.