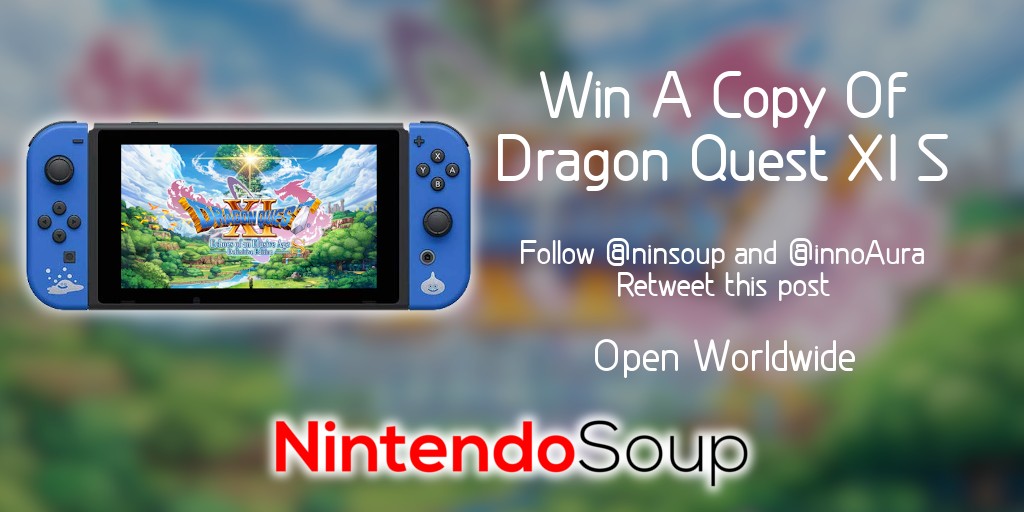 NintendoSoup Giveaway: Dragon Quest XI S
NintendoSoup Giveaway: Dragon Quest XI S
Congratulations!
Congratulations to @S0N1C3167, the winner of our #DragonQuestXIS giveaway!

Thank you for participating, everyone!

— NintendoSoup (@ninsoup) November 12, 2019
Hey everyone! Welcome to NintendoSoup's 53rd giveaway.
This week, we are giving away a copy of Dragon Quest XI S sponsored by innoAura!
There are two ways to enter the contest – follow the instructions on Facebook and/or Twitter.
Win a copy of #DragonQuest XI S for #NintendoSwitch!

1. Follow @ninsoup and @innoAura

2. Retweet

Open worldwide, ends October 7, 6am PT.

Increase your chances by entering on Facebook: https://t.co/qS6L3bQRCz pic.twitter.com/cJwGY8N2Sj

— NintendoSoup (@ninsoup) September 25, 2019
Giveaway ends October 7, 2019 6:00am Pacific Time. 1 winners will be randomly selected on Facebook/Twitter. Prize will be given in the form of a download code. Open worldwide.
Good luck!