The Original Nintendo Switch Is Getting A New, Modified Processor And Flash Storage Chips
The Original Nintendo Switch Is Getting A New, Modified Processor And Flash Storage Chips
The Switch hardware surprises just won't stop!
Nintendo has recently filed a "Class II Permission Change" to the Federal Communications Commission (FCC) requesting to modify the internals of the original Nintendo Switch. According to the document filed by Nintendo, these modifications will affect the Switch's System-on-Chip (SoC) known also as the Nvidia Tegra processor, as well as the "NAND memory" (flash storage chips).
Here's the filed request: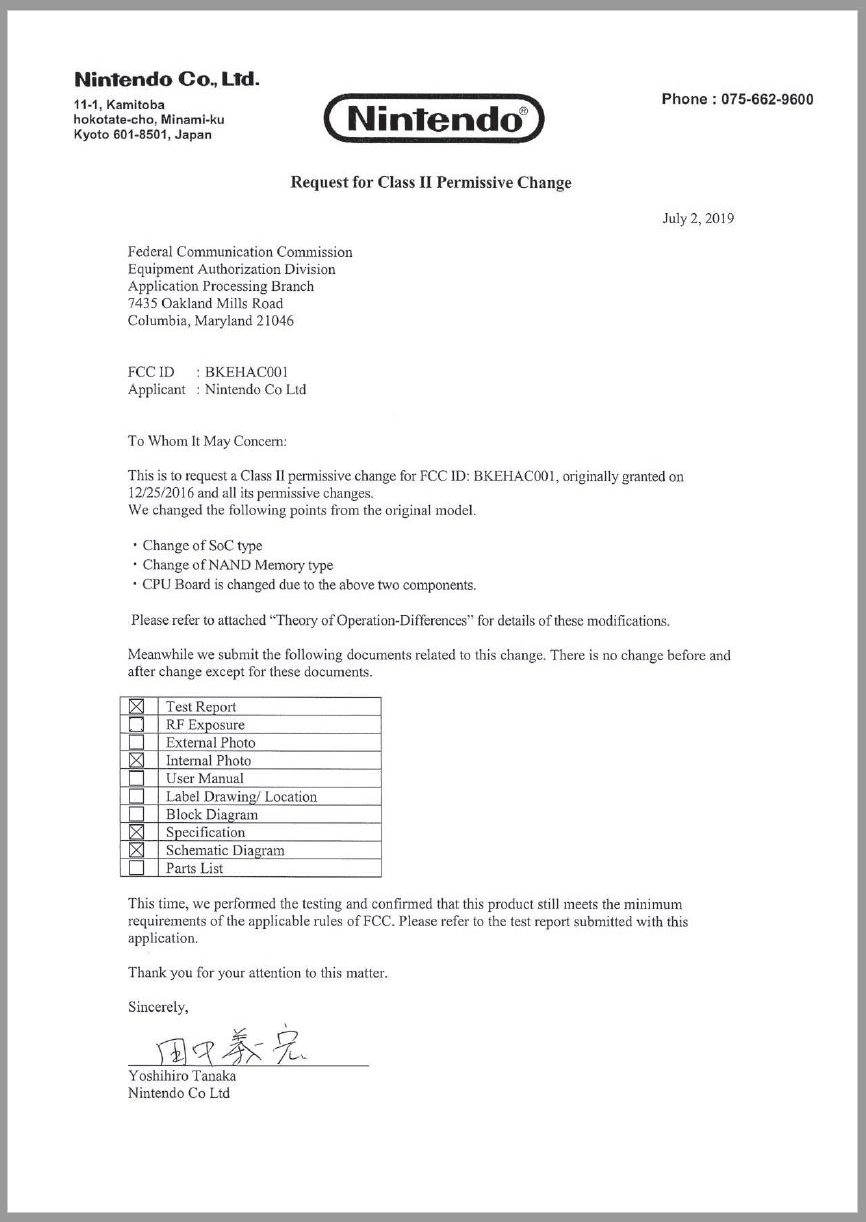 Now, what this means is that Nintendo is planning to rework the existing original Switch without the hassle of getting the newly modified hardware re-certified, and going through the entire process, for it to be sold in the US.
If anything, we could be seeing the rumored "enhanced" version of the original Nintendo Switch, also coined as the "Switch Pro," out in the wild in the near future. Now, before getting your hopes up, it is worth noting that Wall Street Journal reporter Takashi Mochizuki, the reporter who broke out the news about the "enhanced" and "cheaper" Switch versions, previously said that people would be mistaken to think that the upgrade will be similar to what Sony did with the PS4 Pro.
Here's what he had to say:
fyi this is what I said in my [previous] article:

"You would be wrong to think the enhanced version is similar to what Sony did with PS4 Pro and the other is just a cheap alternative that looks very similar to some past hand-held machines, say, Sony's PlayStation Vita."

fyi this is what i said in my article pic.twitter.com/hnsJtfURnm

— Takashi Mochizuki (@mochi_wsj) July 10, 2019
With the reveal of the Nintendo Switch Lite being a budget option for consumers, essentially confirming the rumors, this upgrade could very well be pointing at the other half of that rumor which is now pretty likely to occur. It's now a matter of when this "enhanced" model will get released in the market and into the hands of giddy fans.
What do you think? Could this be the "Switch Pro" the gaming community is most excited about? Let us know in the comments below!